When a child or teen wants to make and maintain friendships, but is having a difficult time doing so, joining a social skills group is an essential way to support a child and teach them the vital social skills that they will need to feel confident and succeed in socializing with their peers. It is important to choose the right social skills group for a child. The group leaders, the types of children in the group, the group format and what is taught in each group determine the goodness of fit for each child.
Types of Kids in Our Groups
Since 2008, we have been running co-ed and single-sex social skills groups for children ages 6-10. Group sizes are small, usually around 6 kids per group, with at least 2 adults. Age groups are broken up into 6-7 and 8-10. Kids come from private, public and sometimes special ed schools. Children and teens are accepted after a clinical interview to determine "goodness of fit" for the group, and to make sure the child/teen would benefit from group based on their individual characteristics including strengths, weaknesses, and goals. Our groups are not designed for kids with severe cognitive or language delays, who are aggressive, require 1:1 attention, or have severe medical issues. Our group members want more friends or longer lasting friendships. We only accept children who would benefit from group based on their individual characteristics and the group as a whole. Our groups are fun based on several theoretical models, including SuperFlex & Social Thinking by Michelle Garcia Winner and Cognitive Behavior Therapy.
Groups for Children: Ages 6-7 and 8-10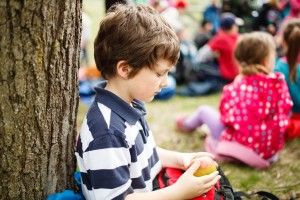 Our social skills groups for children ages 8-10 follows a Cognitive Behavioral Therapy (CBT) – Structured Teaching Model that focuses on enhancing a child's social skills in their natural environment. During the structured portion of our groups, our therapists teach one social skill per week. After the skill is defined and explicitly taught, children watch a video demonstration and prepare for their community-based outing to carry-over their social skills into the natural environment. We travel around the community by walking to places such as but not limited to: Barnes & Noble, Central Park, Book Culture, Children's Museum of Manhattan and American Museum of Natural History. The first and last group sessions are held inside the office to allow for extra review and reward time.
The social skills group for children ages 6-7 follows a social thinking model. We teach the social skills by using social stories, video demonstration, role-plays, board games, drawing, and discussion during each group.
All children have an opportunity to earn points toward a reward in each group session. Groups focus on overcoming trouble with: anxiety, assertiveness, impulsiveness, expressing feelings, problem-solving, bullying, anger, and self-esteem to increase effectiveness and confidence in social situations. Each session focuses on specific skills like: making introductions, active listening, managing anger, being a good sport, ignoring negativity, making chit chat, social etiquette, apologizing, and accepting blame, joining in play, and giving and receiving compliments. Group members are diverse, and may have a diagnosis of: ADD/ADHD, learning disabilities, High Functioning Autism Spectrum Disorders, anxiety, or depression. Parents participate by meeting separately for the last 10 minutes of group to review weekly handouts and discuss supporting generalization of skills outside of group.
Here are examples of the skills we teach explicitly each week:
Making Introductions, Asking for Help, Following Directions, Self-control: Stop and Think Before You Act, Making Small Talk, Resisting Peer Pressure, Teasing vs. Bullying, Identifying Emotions, Personal Space, Sharing, Apologizing, Being a Social Detective: Non-verbal cues, Flexibility: Being a Fun Player/Dealing with Losing, Problem Solving, Sharing, Being Part of the Group: Collaborating and Giving and Receiving Compliments.
— Please contact us now to sign up —
Groups are led by Carly Klayman & Devorah Moses
Ages 6-7, Co-ed, Thursdays, 4-5 PM
Ages 8-10, Co-ed, Thursdays, 5-6 PM
Session 1: Back to School Booster
Dates: September 14th, 28th, October 5th, 12th, 19th, 26th & November 2nd

Session 2: Friendships in the Fall
Dates: November 9th, 16th, 30th, December 7th, 14th, January 4th & 11th

Session 3: New Year, New Friendships
Dates: January 25th, February 1st, 8th, 15th, March 1st & 8th, March 22

Session 4: Friendships in Full Bloom
Dates: March 29th, April 12th, 19th, 26rd, May 3rd, 10th, 17th

Session 5: Spring Social Stars
Dates: May 24th, 31st, June 7th & 14th, 21st and 28th

School Consultation & Parent Training
Weekly 60 minute socialization groups are 1 part of a 3 part intervention: group, home and school. Behavioral parent training teaches parents how to generalize the skills from group at home and in public. This training is strongly recommended as it helps children derive maximum benefit from group. In addition to the specific social skills from group, topics covered are: effective communication, positive attention, active ignoring, behavior plans, daily report cards (DRC), time-out, consequences, and how to enhance social skills acquisition. For older teens, family therapy is recommended to improve communication and problem-solving with parents. DRC is a research-supported treatment for improving social, academic and behavioral issues at school.
How to choose the best social skills group for my child or teen?
Group Location
Our social skills groups run weekly during the school year at our Upper West Side office location (107 West 82nd St. and Columbus Ave, Lower Level Professional Suite #107).
We accept about 4-6 kids per group, on a first-come, first serve basis, with at least 2 staff per group.
Please contact us today to sign up for our upcoming groups!