What Are Social Skills Groups?
Social skills groups help teach children how to get along with their peers through better social interactions. The groups are small and structured, led by a trained professional.
Social skills groups teach children the vital social skills that they will need to feel confident and succeed in socializing with their peers.
To register for one of our fall groups, please complete this form.
What child could benefit from a Social Skills Group?
Since 2008, we have been running co-ed and single-sex social skills groups for children ages 5-14. Group sizes are small, usually 3-4 kids per group, with at least 2 adults, and broken up by age (5-6, 7-9, and 10-12, and 13-14).
Kids come from private, public and sometimes special education schools. Children and teens are accepted after a clinical interview to determine "goodness of fit" for the group, and to make sure the child/teen would benefit from the group based on their individual characteristics including strengths, weaknesses, and goals. Our groups are not designed for kids with severe cognitive or language delays, who are aggressive, require 1:1 attention, or have severe medical issues.
Our groups are fun and are based on several theoretical models, including SuperFlex & Social Thinking by Michelle Garcia Winner and Cognitive Behavior Therapy.
Social Skills Groups for Children:
Ages 5-6
The social skills group for children ages 5-6 follows a social thinking model. We teach social skills by using social stories, video demonstration, role-plays, board games, drawing, and discussion during each group.
Ages 7-9, 10-12, and 13-14
Our social skills group for children ages 7-14 follows a Cognitive Behavioral Therapy (CBT) – Structured Teaching Model that focuses on enhancing a child's social skills in their natural environment. Our therapists teach one social skill per week. Each session is highly structured, where the skill is defined and explicitly taught, which prepares children to carry-over their learned social skills into the natural environment.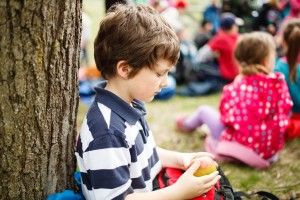 Groups focus on overcoming trouble with: anxiety, assertiveness, impulsiveness, expressing feelings, problem-solving, bullying, anger, and self-esteem to increase effectiveness and confidence in social situations. Group members are diverse, and may have a diagnosis of: ADD/ADHD, learning disabilities, High Functioning Autism Spectrum Disorders, anxiety, or depression.
Parents participate by meeting separately for the last 10 minutes of the group to review weekly handouts and discuss supporting generalization of skills outside of the group.
Will a child show improvement in social skills on their own?
Social skills deficits generally do not improve over time on their own. Nearly 20% of kids are rejected (Burleson, 1985, Kupersmidt et al., 1995), and that peer category can last for up to 4 years (Coie & Dodge, 1983; Howes, 1990).
Kids without friends need specific help to change the way they interact or they are doomed to repeat the same mistakes over and over again. Social rejection and lack of peer relationships as a child is the biggest risk factor for adult maladjustment, more so than academics or classroom behavior (Hartup, 1992).
Socially rejected kids need intensive, integrated and comprehensive social skills training with professionals, their parents, and at school. While this is easier said than done, it is achievable!
Examples Of Social Skills Taught Each Week
Making Introductions
Asking for Help
Following Directions
Self-control: Stop and Think Before You Act
Making Small Talk
Resisting Peer Pressure
Teasing vs. Bullying
Identifying Emotions
Personal Space
Apologizing
Being a Social Detective: Non-verbal cues
Flexibility: Being a Fun Player/Dealing with Losing
Problem Solving
Sharing
Being Part of the Group: Collaborating and Giving and Receiving Compliments
Group Schedule
— Please complete this form or call us at 646-389-4112 to sign up —
Groups are led by Carly Klayman
Groups range from 3-5 participants.  Groups will be held in-person at our UWS office, once per week for ages 5-14.
Sessions: Schedule
Monday afternoons/evenings for 50 minutes. Participants learn and practice social skill building in the office during each session.
5-6 year olds – 4 pm

7-9 year olds – 5 pm

10-12 year olds – 6 pm

13-14 year olds – 7 pm

Session times subject to change prior to the start of the group due to enrollment
Fall Series: September 12-December 5 (10 Sessions)
Week 1 – Making Introductions/ Social Greetings (9/12)
Week 2 – Being a social detective (9/19)
Week 3 – Collaborating (10/3)
Week 4 – Being Flexible (10/17)
Week 5 – Apologizing (10/24)
Week 6 – Giving & Receiving Compliments (11/7)
Week 7 – Respecting Personal Boundaries (11/14)
Week 8 – Problem Solving (11/21)
Week 9 – Joining in Play/Conversation (11/28)
Week 10 – Empathy (12/5)
*There is no group on 9/26, 10/10 or 10/31
The groups will meet for 50 minutes in the office to learn social skills. The last 10 minutes of group includes parent feedback and training.
Intakes for Fall: Week of August 15th, August 22nd and August 29th, September 6th or late June/July depending on kids camp schedules and family travel plans); If intakes on the earlier side, I would require a 15 min catch up call with parent closer to start date.
New patients to MPG are required to have an hour long intake. The fee for the intake (30 minutes for the parents and 30 minutes for the child) is $300. The intake fee is waived for current MPG patients.
Pricing: Cost: $1,500, to be paid in full prior to the group start.
50% deposit due by 8/25/22 to reserve spot

Paid in full by 9/1/22
To sign up, please complete this form or contact us for more information.
School Consultation & Parent Training
Weekly 60 minute socialization groups are one part of a three-part intervention: group, home and school.
Behavioral parent training teaches parents how to generalize the skills from group at home and in public. This training is strongly recommended as it helps children derive maximum benefit from their social skills group training.
In addition to the specific social skills from group, topics covered are:
effective communication
positive attention
active ignoring
behavior plans
time-out
consequences
how to enhance social skills acquisition.
For older teens, family therapy is recommended to improve communication and problem-solving with parents. DRC is a research-supported treatment for improving social, academic and behavioral issues at school.
How to choose the best social skills group for my child or teen?
NYC Social Skills Group Training Location
Our social skills groups run at a local park or at our Upper West Side office located at:
107 West 82nd St. and Columbus Ave
Lower Level Professional – Suite #101
New York, NY 10024
Please complete this form today to sign up for our upcoming groups!
Social Skills Groups Results Ages 7-9 & 10-12
How do you know if your child is learning new social skills? One method is to compare parent ratings before and after the intervention, which is exactly what I did for two of my social skills groups in NYC that I led in the Fall of 2013 for children ages 7-9 & 10-12.
The Kids: 11 children, 3 girls and 8 boys. There were actually 14 kids overall who completed the program but not all parents completed the pre and post parent rating scales. Kids had varying diagnoses but all with solid language and cognitive abilities and no behavioral problems. Kids attended public, private and special education schools.
Procedure: Group met for 9 weeks, for 60 minutes each group. 3 Co-leaders. Parents rated their child based on what they saw outside of group before and after group. The online rating scale measured the social skills being taught in this NYC based group. We used a structured teaching model: skill definition, video demonstration, supervised child practice, reward time and then review. One skill was taught each week and reinforced in group via SocialStars (spontaneous pro-social behaviors) and reward free play. During the last 10 minutes, I met with the parents separately to review the homework from the prior week, review the new skill being taught, and practice the new homework.
Results: Comparing total pre-group scores with total post-group scores, both groups improved by about 20%.  The younger group improved the most in self control, while the older group improved the most in apologizing and accepting blame.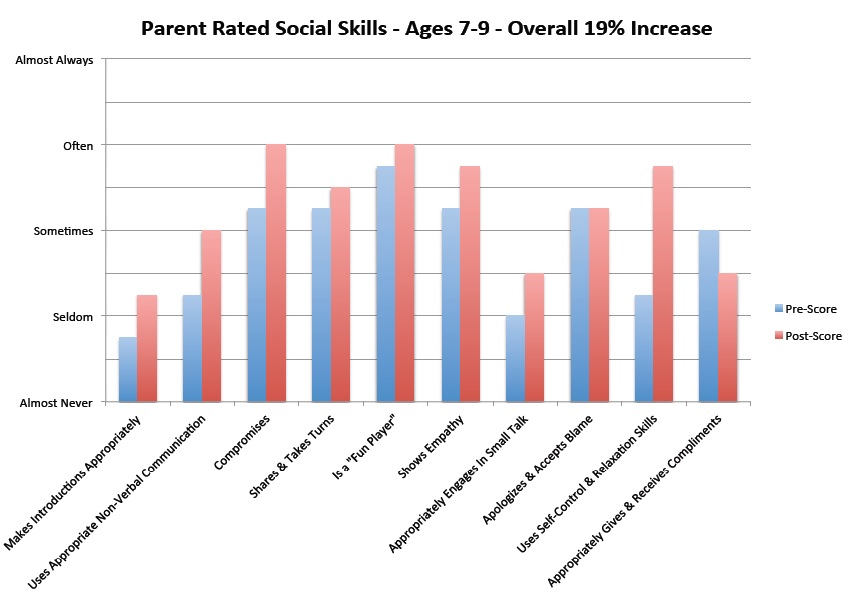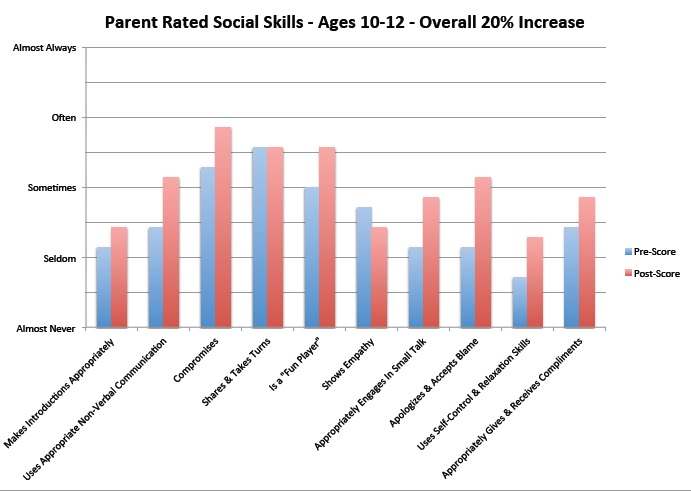 Discussion: I'm very happy with these results, as are the parents. The children learned new skills because we taught them explicitly and the parents reinforced them at home. Some children were also on an eDRC at school for similar difficulties. I try to measure outcomes like this each semester to make sure kids are learning and applying what is being taught.