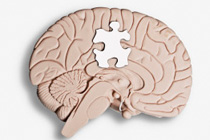 Cognitive-behavior therapy (CBT) is a short-term treatment (often 6-20 sessions) that focuses on ways that a person's thoughts, emotions, body sensations and behaviors are connected, and how they affect one another. For example, your thoughts about a certain situation can often affect how you feel both physically and emotionally,as well as how you react in response.
There are helpful and unhelpful ways of reacting to a situation, often determined by how you think about them. CBT includes skill building and works on reducing emotional distress and psychological symptoms by changing the following: negative thoughts or errors in interpretation, unhelpful coping strategies, and behaviors that may inadvertently reinforce feelings and symptoms.
CBT is an active process, and can often include homework assignments and practicing skills outside of sessions. As a goal-oriented treatment, CBT works to resolve present-day problems and involves working step-by-step to achieve goals. Research has found CBT to be effective in a wide variety of mental health and behavioral issues and has been shown to change brain activity as a result of participating in this form of therapy.
CBT is often used with people of all ages experiencing mood disorders, anxiety disorders, personality disorders, eating disorders, substance abuse disorders, sleep disorders, negative behaviors, and psychotic disorders. While we cannot control every aspect of the world around us, we can take control of how we interpret and deal with challenging things around us. CBT is an effective tool to help anyone learn how to better manage stressful situations.