Learn more from Dr. Margaret Areizaga: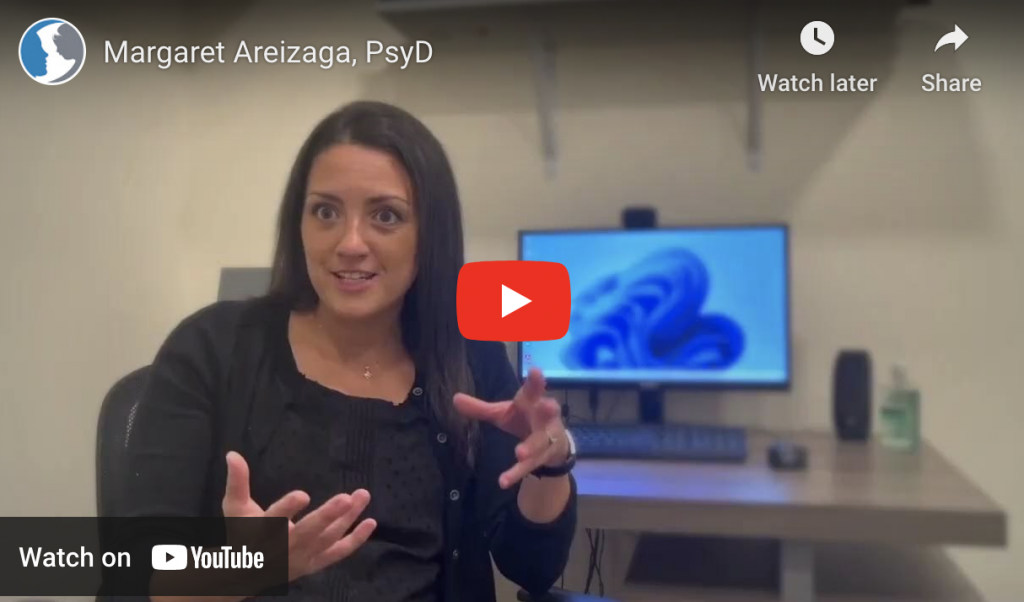 This group aims to help parents understand ADHD and how it impacts their child's functioning at home, in school, and with peers. Parents will learn specific skills and concrete tools to improve the quality of the parent/child relationship and their child's functioning and behavior at home and at school. Each session will focus on learning a specific skill that will be reinforced through practice during the session.
Dates/times: 6 weeks, one-hour per week (virtually)
General goals/topics covered each week:
Psychoeducation about ADHD in children
Learning better ways of responding to your child in various situations
Improving self-esteem
Learning strategies to help your child with executive functioning difficulties
Targeted issues include: ADHD, executive functioning skills, and behavioral difficulties
Learning objectives for attendees:
Understand and communicate better with your child
Create a calmer family dynamic that increases positive behavior
Improve your self-confidence as a parent and your child's self-confidence
Create a supportive environment to increase your child's organizational and time-management skills
Group Schedule:  Tuesdays at 12 pm or Thursdays at 7 pm, starting in October. Both meet virtual.
10/3 (afternoon session) and 10/5 (evening session)
10/10 (afternoon session) and 10/12 (evening session)
10/17 (afternoon session) and 10/19 (evening session)
10/24 (afternoon session) and 10/26 (evening session)
Skip for Halloween week
11/7 (afternoon session) and 11/9 (evening session)
11/14 (afternoon session) and 11/16 (evening session)
Pricing: Fee is $1,200 per parent ($1,100 Early Bird pricing) or $1,500 for both parents ($1,400 Early Bird pricing) for all 6 groups. There is a discounted rate to add a third caregiver (step-parent, grandparent, nanny, etc.), as well.
Intake: An abbreviated intake is required for families that are new to MPG who plan to submit for out-of-network reimbursement. The fee for the abbreviated intake for patients new to MPG is $150. It is a brief session with the parent(s), and may include an observation of the child at the clinician's discretion. The purpose of the intake is to gain a more comprehensive understanding of the behaviors of the child, identify the challenges and goals of the parent(s) for the group, and assess the parent-child relationship. The intake can provide a diagnosis for qualified parents to use for out-of-network reimbursement from insurance for the group fee.
Group Leaders: Dr. Margaret Areizaga and Dr. Maura Francis
Cancellation policy: There are no refunds or makeup dates for the group.
Group fees, including the intake fee, are to be paid for the entire series upfront. You cannot pay after the group is over or week to week. Since this is a closed group with only a limited number of parents per group, there are no make-ups, refunds or cancellations. We can provide a receipt for parents to submit for out-of-network reimbursement. The CPT code for group parent training is 90849-95. The parent attending the group must be the identified patient with a diagnosis for the receipt, which can be covered further during intake; we cannot use a child's diagnosis. Reimbursement is only available for parents residing in NY, NJ, CT, PA, and FL where our psychologists are licensed.