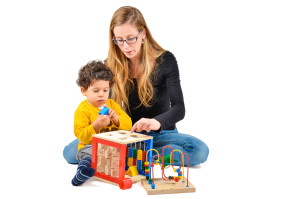 PCIT is a behavioral intervention for children ages 2-7 years old and their parents or caregivers, and is used to increase a child's social skills and cooperation, improve the parent-child relationship, increase confidence in parents, as well as decrease child behavior problems such as defiance and aggression.
With more than 150 efficacy studies, PCIT has been shown to positively affect the behavior of children with issues including insecure attachment, aggression, disruptive behaviors, temper, and non-compliance. Parents are taught in a playroom while being coached by a therapist behind a one-way mirror through an earpiece so parents get immediate feedback on their use of learned parenting skills. This helps parents to learn rapidly the correct use of skills, and keeps children unaware of the therapist overlooking the play session.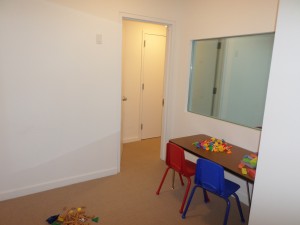 PCIT teaches play therapy skills to reinforce positive child behavior, and behavior management skills to decrease negative child behavior. Treatment has two phases: child-directed interaction (CDI) and parent-directed interaction (PDI).
During the CDI, parents learn play skills similar to those used in play therapy to engage their child in a play situation with the goal of strengthening the parent-child relationship. During PDI, parents learn to direct their child's behavior with clear, age-appropriate instructions and consistent consequences with the goal of increasing compliance from their child.
The length of PCIT treatment varies, but families remain in treatment until parents have demonstrated mastery of the treatment skills and rate their child's behavior as normal. The average length of treatment is 16 weeks with weekly 1 hour sessions.
We are one of only a few official PCIT centers in Manhattan. We have 7 trained PCIT clinicians, 3 of whom are Level 1 PCIT Trainers. We have 3 formal PCIT rooms with 1-way mirrors, and offer PCIT at our Upper East Side location at 1160 5th Ave / 97th St and our Upper West Side location at 107 W 82nd Street, Suite 107.