What is an Anxiety Disorder?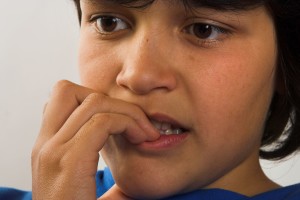 Anxiety at times is normal throughout a child's development into adolescence and can help us to cope by getting us through a tense situation, cause us to study harder for an exam, or keep focused on an important speech.1 Young children usually grow out of normal short-lived fears such as being afraid of the dark, storms, animals, being separated from a parent, or strangers, but children and teens with an anxiety disorder experience fear, nervousness, and shyness and start to avoid places and activities.2,3 A child with an anxiety disorder cannot be comforted or reassured to get past his or her fear and anxiety.
Outlining Specific Anxiety Disorders 4,5,6
Generalized Anxiety Disorder: Children and teens with generalized anxiety experience chronic excessive anxiety about multiple areas of their lives, which may include school, family, social situations, health, and natural disasters. Children and teens with generalized anxiety disorder may be very hard on themselves and strive for perfection. They may also seek constant approval or reassurance from others.
Separation Anxiety: Children with separation anxiety feel excessive fear of being away from their home or caretakers. Children may complain of homesickness and refuse to go to school, camp, or sleepovers. These children commonly worry about something bad happening to their parents or caregivers or that they may become lost, kidnapped, or sick if they are apart. Children with separation anxiety cannot be distracted after a parent leaves and take longer than other children to calm down after a parent has left. Separation anxiety affects 4% of children and is much more common in children than adolescents.
Specific Phobia: A child with a specific phobia shows intense fear of a specific object or situation such as spiders, dogs, needles, riding in elevators, or flying.
Social Anxiety Disorder: Teens are more often diagnosed with social anxiety disorder than children. Children and teens with a social phobia feel anxiety in social settings or performance situations like being called on in class, starting a conversation with a peer, using a public restroom, speaking in public, or eating in a restaurant. Those with a social phobia suffer from an extreme fear of being humiliated or embarrassed in front of other people. It can cause uncontrollable and negative reactions to social situations and can result in isolation, depression, and substance abuse.
What are symptoms of an Anxiety Disorder?4,5,6
All anxiety disorders have some common traits:
Each disorder has a trigger, a situation or object, which causes fear and anxiety.
The amount of fear and anxiety is excessive and lasts well beyond a normal experience. Children and adolescents with anxiety may voice a specific worry or fear, which they may not realize is excessive or unreasonable.
Anxiety disorders often last at least 6 months.
Your child may show physical symptoms of fear and anxiety such as shortness of breath, increased heart rate, and sweating or complain of a stomachache or headache.
Children will avoid situations or things that they fear, or endure them with anxious feelings, which can be expressed by crying, tantrums, clinging, and avoidance.
Children and teens with an anxiety disorder may also be diagnosed with depression, eating disorders, and ADHD.3 The National Institute of Mental Health reports about 8% of teens ages 13-18 have an anxiety disorder, with symptoms commonly appearing at age 6.1 Adolescents suffering from an anxiety disorder tend to have more severe symptoms than children, are more likely to be diagnosed with a mood disorder than children, and are more likely to refuse to go to school.7
What causes an Anxiety Disorder?
Science has not identified one single cause of anxiety disorders, developing an anxiety disorder is usually the result of biological and environmental risk factors (such as parenting style). Genetics and your child's temperament or innate personality style play an important role in predisposing children to anxiety disorders. For example, a child who is innately cautious, quiet and shy is more likely to develop an anxiety disorder.4 Adverse childhood experiences can also contribute to risk for developing anxiety disorders.8
What can be done to treat an Anxiety Disorder?
Anxious children and teens can be quiet, compliant, and eager to please which may make it difficult to realize a child is struggling with anxiety or fear.2 Cognitive behavioral therapy (CBT) focuses on the relationships between negative or automatic thoughts, feelings, and behaviors and can help children and young people to deal with anxiety by using new ways of thinking.6,9 CBT has been shown to be significantly more effective than no therapy in reducing symptoms of anxiety. The National Institute of Mental Health has found that CBT, given with or without medication, can effectively treat anxiety disorders in children.1,9 Anxiety disorders are no one's fault. However, they can complicate and add stress to your family life. Building a support network of friends and relatives helps.6
Resources:
1 National Institute of Mental Health
2 AACAP – Anxiety Disorder in Children
3 ADAA- Living with Anxiety in Children
4 American Academy of Child & Adolescent Psychiatry
5 Anxiety and Depression Association of America
6NAMI – Anxiety Disorders in Children and Teens
7 Journal of Affective Disorders
8 Substance Abuse and Mental Health Services Administration
9 Cochrane – CBT For Anxiety in Children