Adolescence is characterized as a period of growth and a time of transition. Not just a physical shift but an all encompassing one involving emotional, cognitive and social changes. The years that comprise adolescence may also be described as confusing, troublesome, and/or stressful which sometimes results in depression or social anxiety disorder.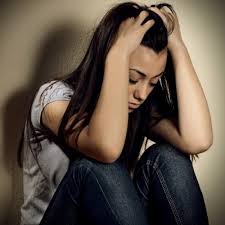 Most commonly, they are characterized by up and down moods. From a clinical psychology point of view, adolescence is a time of great personal transformation which impacts mood, behavior and relationships, both positively and/or negatively. Given all of the changes and transitions during this stage of development, teens are at a high risk for developing depression and/or anxiety. Depression and anxiety do not single out just one kind of person and they do not have just one simple cause. There are several factors that may contribute to someone experiencing feelings of depression and/or anxiety, such as biological (i.e., family history) and/or environmental/situational (i.e., stressful event) aspects. Often depression and anxiety occur together, which creates more challenges for a young person and those around them.
The classic questions which arise for parents and family members who live with teenagers are; how do I know when something is really wrong (i.e., my child is more than "moody") and when do I seek professional help (i.e., therapy and/or medication)?  Two essential key features to determine if help is needed is if the depressed mood and/or anxious feelings are (1) interfering with the adolescent's ability to function and (2) are ongoing. Intervention early is always superior.
Adult males and females may present and experience characteristics of depression and anxiety differently. This is true for adolescents as well. Males may act out (externalize), whereas females may withdraw from others and have low self esteem (internalize). Gender differences occur regularly however each individual may differ in their attempts to cope with emotional discomfort and therefore symptom presentation varies.
Given this information, it is important for parents to be aware of signs that a teenager is struggling. They include:
Sad mood or irritability
tearfulness
decreased interest in activities or a change from previous enjoyment
low energy / feeling tired
changes in social functioning (i.e., use to be social; now isolating)
low self esteem
frequent somatic complaints
increase irritability, anger (physical or verbal)
repeated use of drugs and/or alcohol
significant changes in sleep or eating patterns (increase or decrease)
decline in school performance and/or overall attendance
expressing suicidal thoughts, plans and/or intentions
engaging in self injurious behaviors (i.e., cutting or burning self)
There are different types of depression and anxiety disorders, including social anxiety disorder. For that reason, when symptoms are observed and changes in the teenager are apparent, seeking professional help is critical to receive appropriate treatment and diagnosis. Individual psychotherapy is an effective way to help a teenager. A confidential setting with a strong therapeutic relationship is crucial to assist any teenager, especially if they are resistant to participate. Cognitive behavioral therapy is highly supported in research as an effective treatment approach for both anxiety and depression.
While an adolescent participates in therapy, they are supported and taught techniques and strategies to gain a sense of control of their feelings and behaviors. Learning to challenge negative thoughts, improve their coping skills and communicate their needs to others are just a few of the benefits. This approach is structured and expectations are clear, which typically increases an adolescent's willingness to participate. Parental involvement is valuable and some adolescents may also make additional gains from working with a psychiatrist to receive psychotropic medication. Collaboration between professionals is vital. Involving a pediatrician and/or key school staff when appropriate are common practices as well to provide comprehensive and effective treatment.