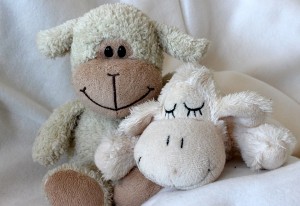 Does your toddler have difficulty sleeping? Do they wake up in the middle of the night crying? Do they wake up too early or go to sleep too late? Had their sleep been seemingly normal and now all of a sudden there's a change? Getting your child to sleep throughout the night is a common toddler sleep problem. Toddler sleep habits can be challenging and frustrating for any parent. So what can you do to help your toddlers get to sleep at night?
First – What is typical toddler sleep?
Most toddlers need between 12-14 hours of sleep over a 24 hour period
By the end of the 2nd year, naps typically decrease from two to one nap a day
Between the ages of 2 and 3, most toddlers move from cribs to beds
Toddlers do not look forward to sleep
Common problems include: bedtime resistance, night awakenings, and difficulty getting back to sleep
What to look out for?
Wakes up in the middle of the night crying
Shows more clingy behavior
Prolongs sleep routine
Changes in daytime behavior
Ask yourself if there have been any recent changes
What can disrupt sleep?
Surroundings – Toddlers are more and more aware of their surroundings and this awareness could distract them from getting to sleep at night
Imagination – Their growing imagination can disrupt sleep
Discomfort – teething or an illness could cause a disruption in sleep, and increased crying and irritability
Mild separation anxiety– fear of separation from a caregiver could arise at this age
Dreams and nightmares – toddlers have a difficult time distinguishing these from reality and therefore nightmares could cause distress during this time for them.
Fear of the dark – increased fears of being in the dark and of monsters could emerge at this age
Bed – Transitions from a crib to a bed could be a difficult transition and increase stress
Change or stressors in the family or an increase stress among parents could cause a disruption in their sleep
What can you do?
Consistent bedtime
Establish a bedtime routine
Set clear limits – i.e. how many books to read
Dream rehearsal could help – changing the ending of a nightmare, making the dreams less scary
Relaxation – make sure bedtime is quiet, and your child is engaging in relaxing activities – taking a bath, reading a bedtime story, lower the lights
Night light – if your child is afraid of the dark put on a night light
Security items/comfort items – allow your child to take security objects such as a blanket or stuffed animal to help them feel more relaxed
Be mindful of any screen time which can stimulate the child or books – content should be mild
If you need to go into their room, night time visits should be brief and boring for your toddler – assure them that they are ok and leave the room
If your child is an early riser – keep blinds closed, make sure the room remains dark
If they are accustomed to your bedroom – reverse it – spend more time in their room on a chair, dim the lights and make their room more relaxing
When to seek help?
If your child's bedtime difficulties persist and/or are affecting their daytime behavior, contact your pediatrician to discuss this further and seek appropriate recommendations and referrals
Written by Lauren Feiden, PsyD