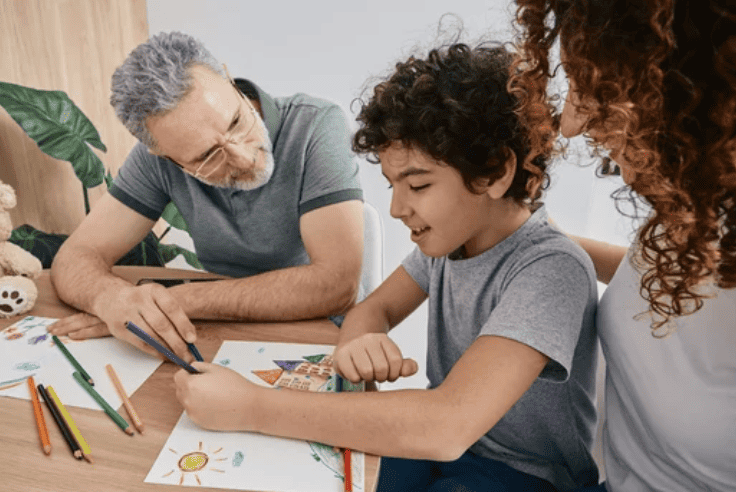 Supportive Parenting for Anxious Childhood Emotions (SPACE) is a parent-based treatment program for children and adolescents with anxiety, OCD, and related problems. This program was developed by Dr. Eli Leibowitz at the Yale Child Study Center. The goal of this treatment is for parents to learn skills and tools to help their child overcome their anxiety. What we know, is that we can't control other people's behavior, so SPACE focuses on changing the parent's behavior to help lessen the child's anxiety.
This treatment gives the parents the tools and support to respond more supportively to their anxious child and reduce the accommodations that they have been making to their child's symptoms.
Although the children are considered the patients, the SPACE treatment takes a different approach in that the child or adolescent does not need to attend the treatment sessions.
Dates/times: 8 weeks, one-hour per week (virtually)
Runs on Wednesdays at noon
General goals/topics covered:
Learn specific skills and tools to help your child overcome anxiety
Learn how to respond more supportively to your anxious child
Learn how to decrease family accommodations to your child's symptoms
Targeted issues include: Separation anxiety, social anxiety, generalized anxiety, fears and phobias, panic disorder, Agoraphobia, selective mutism, and Obsessive Compulsive Disorder
Learning Objectives:
Develop a thorough understanding of childhood anxiety
Learn concrete parenting skills that can be used to manage your child's anxiety
Improve your self-confidence as a parent
Pricing: Fee is $1,500 per parent ($1,400 Early Bird pricing) or $1,900 for both parents ($1,750 Early Bird pricing) for all 8 groups. There is a discounted rate to add a third caregiver (step-parent, grandparent, nanny, etc.), as well.
Intake: An abbreviated intake is required for families that are new to MPG who plan to submit for out-of-network reimbursement. The fee for the intake for patients new to MPG is $200. The intake is a brief session with the parent(s), and may include an observation of the child at the clinician's discretion. The purpose of the intake is to gain a more comprehensive understanding of the behaviors of the child, identify the challenges and goals of the parent(s) for the group, and assess the parent-child relationship. The intake can provide a diagnosis for qualified parents to use for out-of-network reimbursement from insurance for the group fee.
Group Leader: Chelsey Rosen, PsyD
Cancellation policy: There are no refunds or makeup dates for the group.
Group fees, including the intake fee, are to be paid for the entire series upfront. You cannot pay after the group is over or week to week. Since this is a closed group with only a limited number of parents per group, there are no make-ups, refunds or cancellations. We can provide a receipt for parents to submit for out-of-network reimbursement. The CPT code for group parent training is 90849-95. The parent attending the group must be the identified patient with a diagnosis for the receipt, which can be covered further during intake; we cannot use a child's diagnosis. Reimbursement is only available for parents residing in NY, NJ, CT, PA, and FL where our psychologists are licensed.