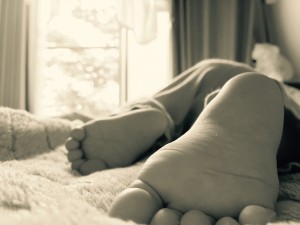 It is common for parents to allow their children to sleep in their bed from time to time. However, for some parents occasionally allowing their child to spend the night in their beds can quickly morph into a problematic and chronic co-sleeping situation. Co-sleeping with older children can be especially detrimental as it can create stress for the entire family, lead to poor sleep patterns for both parents and children, and inhibit the ability of children to develop independence. Co-sleeping also negatively affects a child's social development since the child is inhibited from functioning normally with peers. For example, the child may be unable to attend or host a sleep-over, join over-night school trips, and go to sleep away camp.
Frequently, parents report that they allow their older child to sleep with them because the child is anxious and unable to sleep alone in their own bed. Anxious parents may also find it difficult to set limits with their child and thus allow the child to continue sleeping in their bed, even once they have recognized that the pattern is problematic. It is important for parents to know that responding to a child's anxiety to sleep in their own bed by allowing them to sleep with a parent only exacerbates a child's fear of sleeping alone. Thus, rather than having to learn how to self-soothe and manage his or her own fears, the child has only learned how to escape from the fear of sleeping in their own bed. Other reasons parents may allow a child to co-sleep include marital difficulties or a recent divorce or transition in the family. Unfortunately, co-sleeping usually worsens marital difficulties and can often make it more difficult for a child to adjust to transitions in the family. Thus, although co-sleeping can be a tempting "Band-Aid" to use when trying to manage childhood anxiety, sleeping problems, or family transitions, it will usually only worsen the problem and create more along the way.
Severe chronic co-sleeping situations will often times require professional help, especially if your child is very anxious of sleeping alone in his bed. Thus, consider if you should contact a mental health professional to assist you in alleviating a chronic co-sleeping issue. The following steps can also be taken by parents who have committed to breaking the co-sleeping cycle:
Create a strict bedtime routine that ends with the child sleeping in their bed every night.
Decide to begin implementing the bedtime routine and stick to it even though the child will resist.
Explain the purpose of the new bedtime routine with your child and validate that your child may feel worried about the upcoming change, while at the same time assuring your child that you are confident they will be able to get used to the new routine.
Identify self-soothing strategies for your child (for example, listening to music, taking deep breaths) that can assist your child in managing his or her anxieties once you have left their room.
Stay consistent! Remind yourself that even though your child will protest, you are doing what is best for your child.  By teaching your child to sleep alone, you are inspiring confidence in their ability to manage their own anxieties and you are assisting them in achieving developmentally appropriate milestones.