What is Autism?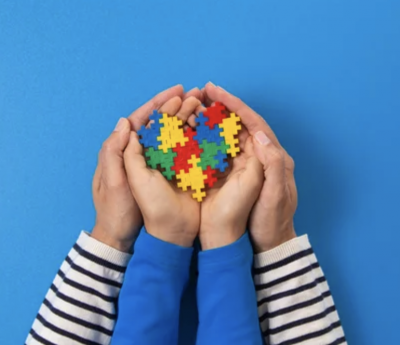 Autism Spectrum Disorder (ASD) describes a developmental disability ranging in severity from mild to severe in areas of social interaction, verbal and nonverbal communication, and repetitive behaviors. Obvious signs of ASD usually appear between ages 2 and 3.
What are symptoms?
Symptoms seen in children with ASD include the following in varying severity:
Social Interaction:
Child fails to respond to their name, affection, or gestures
Difficulty playing social games, prefers to play alone
Difficulty regulating emotion and frustration, can be disruptive or aggressive
Has trouble interpreting what others think and feel
Communication:
Does not follow the normal "give-and-take" of conversation
Has trouble identifying sarcasm
Difficulty understanding body language
Displays little or no eye contact
May repeat or echo words or phrases
Behaviors:
Places toys or objects in a fixed order instead of playing with objects
Requires rigid consistency in environment and daily routine
Forms extreme interests
Displays repetitive motions such as hand flapping, rocking, twirling, etc.
What causes Autism?
The causes of ASD are still under study, but scientists have listed the following as risk factors:
Being male, boys are 4-5 times more likely than girls to be diagnosed with ASD
Having a sibling diagnosed with ASD, an increase of 35 times the normal risk
Having genetic mutations associated with ASD
Being born to older parents
Having conditions such as Fragile X syndrome and tuberous sclerosis
Maternal illness during pregnancy, or lack of oxygen to the brain during birth
The Centers for Disease Control reports 1 in 68 American children fall within the autism spectrum. Autism often looks different in girls than in boys according to the Simons Foundation Autism Research Initiative. Researchers have found that girls show more irritability and acting out behaviors than boys with ASD on average do.
There are several conditions that can occur in children with ASD which include:
Gastrointestinal distress
Sleep trouble (trouble falling asleep and/or staying asleep)
Seizure disorder
Anxiety disorder
Sensory processing issues (overreacting or under-reacting to certain sights, sounds, smells, textures, and tastes)
ADHD
Depression
Intellectual disability
Motor coordination difficulty and loss of muscle tone
Eating non-food items
What can be done to treat Autism?
While there currently is no cure, best outcomes are often achieved through a comprehensive treatment plan which includes behavioral treatments, social skills training, parent training, and medicine when necessary to help specific symptoms. Significant improvements in ASD symptoms are most often reported after intensive early intervention (between birth and 36 months of age).
An editorial published in Autism Research Review International highlighted how much stress mothers of children with ASD especially, can experience. Seeking treatment for children with ASD and their family members can lead to better understanding, coping, and education within families.