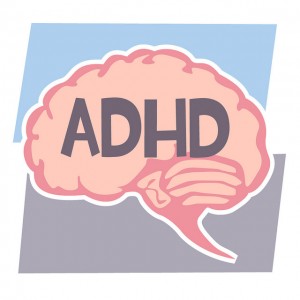 Attention Deficit Hyperactivity Disorder (ADHD) is a neurodevelopmental behavioral disorder characterized by a persistent pattern of inattention and/or hyperactivity-impulsivity. In order to be diagnosed with ADHD, symptoms must be present before the age of 12, be clinically significant in at least two settings (e.g., at home, at school, in social settings), and cause functional impairment. There are three types of ADHD: Hyperactive-Impulsive Type, Inattentive Type, and Combined Type (requiring symptoms of both inattention and hyperactivity/impulsivity).
What are the symptoms of ADHD?
Inattention: Requiring six of more symptoms for at least six months:

Often fails to give close attention to details or makes careless mistakes
Often has difficulty sustaining attention in tasks
Often does not seem to listen when spoken to directly
Often does not follow through on instructions and fails to finish what they started
Often has difficulty with organization
Often avoids, dislikes or is reluctant to engage in tasks that require sustained mental effort
Often loses things necessary
Is often easily distracted by extraneous stimuli
Is often forgetful in daily activities
Hyperactivity and Impulsivity: Requiring six of more symptoms for at least six months:

Often fidgets with or taps hands or feet or squirms in seat
Often leaves seat in situations when remaining seated is expected
Often runs about or climbs in situations where it is inappropriate
Often unable to play or engage in leisure activities quietly
Is often "on the go" acting as if "driven by a motor"
Often talks excessively
Often blurts out an answer before a question has been completed
Often has difficulty waiting his or her turn
Who is typically diagnosed with ADHD?
Currently, ADHD is the most commonly diagnosed pediatric behavioral disorder, affecting 11% of school-aged children, and studies suggest that 9.2% of boys and 2.9% of girls demonstrate behaviors consistent with the diagnosis. Boys are most likely to be diagnosed with the disorder than girls, and girls are more likely to manifest the disorder with symptoms of inattention as opposed to symptoms of hyperactivity/impulsivity most commonly found in boys.
What are some of the causes of ADHD?
Though a strong genetic component has been found, ADHD is complex and may be the result of a number of different factors, and does not have one single cause. Some environmental factors which may increase the likelihood of developing ADHD is exposure to lead or pesticides as an infant or toddler, premature birth or low birth weight, and brain injury. Parenting style, family stress, and exposure to trauma are all factors that do not cause, but may exacerbate symptoms of ADHD.
Children with ADHD often experience difficulties academically, in peer groups, and may exhibit challenging behavior at home. These children are at risk for problems in adolescence and adulthood, including difficulties with maintaining relationships, substance abuse, and other comorbid problems, and therefore treatment early on is essential, to help them be successful in adolescence and adulthood.
What are the most effective and evidence based treatments for ADHD?
Treatment of ADHD often requires a multimodal approach, which would include a number of different modalities, such as medication, behavioral interventions, and skills training. Below are evidenced based treatments for children with ADHD.
Pharmacological interventions – medication, typically stimulants, is the best supported treatment for ADHD. Medication helps most children improve in their ability to stay focused, and to reduce hyperactivity and impulsivity. Medication does not however alleviate all symptoms of ADHD and is typically recommended and most effective when paired with interventions focused on skill development and behavior management.
Behavioral Parent Training – is one of the most widely used treatments for children with ADHD, and can be done in both individual and group settings. Behavioral management training (ages 8+) and Parent-Child Interaction Therapy (ages 2-7) are two interventions that have been successful in treating symptoms of ADHD. Typically, parent training focuses on positive reinforcement and selective attention, parent-child relationship building, effective limit setting, problem solving, and anger management. Sessions usually involve psychoeducation, homework and review, role playing, modeling, handouts, and review of goals/progress.
Behavioral Classroom Management – Interventions that involve management of classroom behavior and communication with teachers and school personnel are found to be successful. Specifically, Daily Report Cards (DRC) and consultation services have been found effective in reducing difficult behavior exhibited by students with symptoms or diagnoses of ADHD.
Behavioral Peer Interventions – Studies have found that typically social skills training alone does not produce positive effects, however, when combined with behavioral parent training or when conducted in a recreational setting such as intensive summer treatment programs, this intervention has been effective. Summer treatment programs may include social skills training, group play with contingency management, behavior management, parent training, and home rewards.
Executive function interventions – These interventions have been found effective in targeting ADHD-related executive functioning weaknesses, such as inhibitory control, self-regulation, cognitive flexibility, working memory, and planning and organizing.
Computerized interventions – There have been a number of computerized programs that have been developed to target ADHD symptoms, improving attention and working memory, reducing behavior problems, and increasing academic achievement. The evidence however to support its effectiveness is limited.
Neurofeedback – this intervention helps individuals learn to control their brain wave activity to achieve a calmer state which would in turn reduce symptoms of ADHD. This treatment shows promise but more research is needed.
Exercise and mindfulness training – There have been some positive results that have found that these interventions have been shown to enhance mental flexibility, and facilitate executive functioning in children with ADHD.
Diets, vitamins, and supplements – There is little evidence that show that the use of special diets and nutritional supplements can resolve ADHD symptoms, but well balanced and healthy diets are known to show health benefits which can impact attention, concentration, and behavior.
The following resources were utilized in the development of the above:
American Psychiatric Association. (2013).Diagnostic and Statistical Manual of Mental Disorders (5th ). Washington, DC: American Psychiatric Publishing.
Evans, S.W., Owens, J., & Bunford, N. (2014). Evidence- Based Psychosocial Treatments for Children and Adolescents with Attention-Deficit/Hyperactivity Disorder. Journal of Clinical Child Adolescent Psychology, 43(4), 527-551.