"My son will only eat crunchy things." "My daughter will only eat things that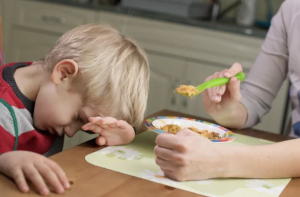 are yellow." "My son hates anything  mushy." Sound familiar? If your child has ASD and often refuses certain foods, you are not alone, as this is a common issue amongst these children.
Children with ASD refuse certain foods due to a variety of issues including:
Restricted interests – A common characteristic of children with ASD
Sensory issues – Hyper- or hypo-sensitivities to certain sounds
and textures
Motor deficits – Specifically in the areas of chewing and swallowing
Gastrointestinal problems – Children with ASD may avoid certain foods because they exacerbate these problems, which then leads to their associating certain foods with pain.
Because the cause of the food refusal is often initially unclear, it is important that all potential underlying factors be considered and the following steps are taken until a cause can be identified:
Schedule a medical evaluation to rule out any gastrointestinal issues.
Meet with a speech pathologist in order to assess whether there may be any motor deficits that are contributing to the issue.
Have an occupational therapist (OT) assess for any fine motor deficits that may be leading to difficulties handling certain utensils or maintaining a good posture while eating. An OT may also be able to identify any sensory deficits that may be contributing to food refusal.
Once a cause has been identified, the aforementioned professionals would then utilize particular interventions based on their specialty. If it is found though that the food refusal is not solely due to one of the above causes and is associated with a compulsive behavior or restricted interest, a behavioral therapist may be of assistance and may utilize one (or more) of the following interventions:
Hierarchical exposure with reinforcement – This involves slowly introducing new foods and requiring certain behaviors that increase in difficulty in order to earn a reward. For example, for a child who is resistant to mushy foods, the therapist may first have the child simply look at a picture of mashed potatoes for a certain amount of time and once the child has completed this he or she is given a reward (e.g., engagement in a preferred activity such as playing with trains). Once the child has mastered this, he or she may be required to touch the picture before being given the reward. The required behavior would then continue to increase in difficulty until they are eventually looking at, touching and eventually eating real mashed potatoes.
Differential reinforcement/attention – Involves attending to positive behaviors such as looking at the non-preferred food, touching it, etc., by providing a lot of praise and positive attention, while ignoring negative behaviors such as refusal, whining, and tantrumming.
Whatever the cause may be of your child's food refusal, as we can see, there are several strategies and professionals available in order to help your child expand their palate – ultimately making meal times less stressful and more enjoyable for everyone.
The following resources were utilized in the development of the above:
Nath, S. (2014). Feeding problems in children with autism. Retrieved from https://iancommunity.org/ssc/feeding-problems-children-autism.
Koegel, R.L., Bharoocha, A.A., Ribnick, C.B., Ribnick, R.C., Bucio, M.O., Fredeen, R.M., & Kern Koegel, L. (2012). Using individualized reinforcers and hierarchical exposure to increase food flexibility in children with autism spectrum disorders. Journal of Autism and Developmental Disorders, 42(8), pp 1574–1581.