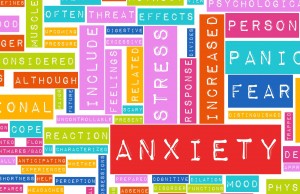 Constant worrying. Imagining the worst case scenario. Difficulties concentrating. Mental fatigue. Restlessness. Sound familiar? If so, you might be experiencing symptoms of anxiety, which in many cases can be quite debilitating. Fortunately, effective treatment is available through the use of Cognitive Behavioral Therapy (CBT).
What does CBT entail?
General components of CBT for anxiety include the following:
Psychoeducation – Learning more about your anxiety through identifying the connection between bodily sensations that indicate the presence of anxiety, anxiety provoking thoughts, and actions (e.g., fleeing the situation).
Developing Relaxation Techniques – e.g., progressive muscle relaxation, deep breathing, imaginal relaxation.
Cognitive Reframing – Anxiety is often the result of automatic thoughts that an individual has regarding certain situations. For example, in the case of social anxiety, when going to a party, one may have thoughts such as "No one will like me" or "I'm going to embarrass myself." Since our thoughts determine our feelings about a situation, identifying, challenging, and reframing these thoughts is an effective way of changing your emotional reaction to a situation, as it is our thoughts that determine our feelings. Through reframing these thoughts, instead of experiencing anxiety in a certain situation, you instead will be able to have positive feelings about it such as happiness or excitement.
Exposure – The most effective way to overcome anxiety is to actually face your fears. Although this may sound very scary at first, this approach is actually quite gradual in nature starting with having you face more benign situations that only result in a mild state of anxiety to gradually building up to facing those situations that cause you to experience intense anxiety and make you want to flee. Through facing your fears instead of fleeing from them, you will learn to tolerate the distress that they cause ultimately leading to your overcoming them.
Does CBT for adults look different than CBT for children?
Although the aforementioned components of CBT are consistent for both adults and children, the approach taken with children might be slightly different in order to better engage them. For example, fun worksheets, games, storytelling, and play may be used in order to help children learn about anxiety, develop relaxation skills, and reframe those negative cognitions that result in anxiety. Specific books and treatment approaches that have kid friendly activities such as The Coping Cat Workbook might also be utilized. In addition to these methods, parental involvement is also a key component in helping a child overcome their anxiety.
What is a parent's role in anxiety treatment for children?
Recognizing your own fear and modeling how to stay calm – Children learn a lot about how they should react to certain situations and deal with anxiety from their parents. For this reason, it is important for a parent to be able to model staying calm in the face of anxiety, and also go one step further by encouraging their child to be brave and face their own anxiety provoking situations.
Providing positive attention for your child's brave behaviors – This can take the form of verbal praise or tangible rewards for tolerating and getting through scary situations.
Not allowing your child to escape anxiety provoking situations – When your child escapes a scary situation, their fear is only reinforced making their anxiety regarding the situation increase even more. Even though it might be tempting to allow your child to avoid or escape these situations, if you are wanting to support your child in overcoming their fears you must not allow them to escape anxiety provoking situations. By encouraging and supporting them instead, they will learn to tolerate the distress that these situations cause and ultimately overcome it.
Who do I go to for CBT for anxiety?
Mental health professionals such as psychologists, licensed clinical social workers, and psychiatrists who have specialized training in CBT for anxiety have the necessary tools to help you or your child overcome anxiety. If you are tired of having anxiety interfere with you or your child's every day functioning it may be time to seek support in overcoming it. With a little bit of motivation and the right support, you or your child will be able to learn how to effectively manage anxiety and live a healthier lifestyle.