It is not uncommon for me to hear about parents concerned that their child is addicted to "screens" (e.g., TV, computers, video games, and portable gaming systems like the "DS"). While a little screen time can serve as a great reward for hard work, a lot of screen time can have negative consequences.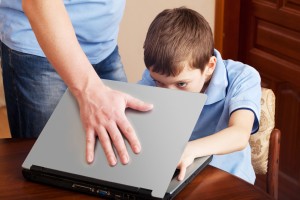 Children who spend excess amounts of time (more than 1 hr per day) watching screens tend to have one or more of the following issues:
Poor social skills
Difficulty concentrating (e.g., school work)
Negative emotions (anxiety, anger, sadness)
Executive skills deficits (e.g., difficulty shifting from one activity to another)
Impulsiveness
Most types of screen time do not stimulate thinking. While some children watch TV and play video games as a means of self-stimulation when alone or bored, others may use the computer to distract, escape, and/or avoid negative emotions. Excessive screen time prohibits children from engaging in physical activity and other pro-social behaviors. Children, especially those with ADHD, become accustomed to the constant stimulation and immediate gratification of video games. Finally, research has found a correlation between aggression and violent video games.
Here is an excerpt about a recent study to be published in the American Academy of Pediatrics on this topic: "Brain science demonstrates that the brain becomes what the brain does," Gentile said. "If we train the brain to require constant stimulation and constant flickering lights, changes in sound and camera angle, or immediate feedback, such as video games can provide, then when the child lands in the classroom where the teacher doesn't have a million-dollar-per-episode budget, it may be hard to get children to sustain their attention."
Here are several strategies to encourage your child away from excessive screen time:
Only allow screen time as a reward for positive behavior, such as homework, physical activity, arts/crafts, and/or reading.
Limit screen time to certain times, such as evenings after homework and weekends.
Remove screen time as a consequence for negative behavior
Offer other rewards for less screen time
The best defense against excessive screen time is a good offense; that is, try to be proactive about not allowing your child to develop negative habits before they become major problems.