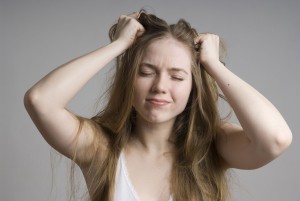 What are Tic Disorders, Tourette's Syndrome, and Trichotillomania?1,2,3
Tourette syndrome (TS): a neurodevelopmental condition on the spectrum of Tic Disorders which affects the brain, spinal cord, and nerves. Characterized by sudden, uncontrollable movements and/or sounds called tics. Diagnosis requires motor and vocal tics present for at least 1 year.
Other Tic Disorders: a spectrum of neurodevelopmental conditions which include:
-Chronic Motor or Vocal Tic Disorder (CMVTD): the presence of motor OR vocal tics (not both) for more than 1 year.
-Provisional Tic Disorder (PTD): Tics occurring for less than 1 year.
-Not Otherwise Specified: for tics that have an atypical onset after age 18, or do not meet criteria for another specific tic disorder.
Trichotillomania (TTM): an impulse control disorder where hair pulling is the trademark symptom.
What are symptoms?
Symptoms normally occur before the age of 18. Most people with TS experience their worst tic symptoms in their early teen years with symptoms dissipating in young adulthood. Symptoms of tic disorders are typically worse during times of excitement or anxiety, and occur less frequently when the person is absorbed in activities, concentrating, emotionally pleased, or sleeping.  Some have compared having tics to having the hiccups, you may not want to hiccup, but it happens without your control, even after trying to stop.1,4,5
Tics4,6

Simple Motor Tics: simple motor tics are sudden, brief, repetitive movements of a small amount of muscles such as blinking, grimacing, shrugging, or jerking of head or shoulders.
Simple Vocal Tics: can include repetitive throat-clearing, sniffing, snorting, grunting or barking sounds.
Complex Motor Tics: involve distinct, coordinated patterns of movements that involve large muscle groups. Can be a coordinated series of simple motor tics and include movements such as hopping, jumping, bending, and twisting.
Complex Vocal Tics: include words or phrases.
Premonitory sensations: a sensory phenomenon which occurs in 90% of adults with tic disorders where an urge, impulse, tension, pressure, or tingle occurs before a motor or vocal tic, usually sensed in specific locations in the body (shoulder, hands, throat).
Hair Pulling (TTM)3
Common areas on the body where hair is pulled include the scalp, eyelashes, eyebrows, and the pubic area. Pulling may be automatic (without thought) or a focused response to a trigger. TTM patients can experience medical complications of their pulling behaviors which include skin irritations at the pulling site, dental problems from biting or chewing hair, infections, and repetitive-use hand injuries. Some may develop GI complications if they ingest their chewed hair.
What are causes?3,6,7
Prevalence of TS in adults appears to be around .05%, though more study is needed on the prevalence of TS in adults. 3.4% of adults are thought to have Trichotillomania. TTM affects primarily females, whereas males are affected 3-4 times more than females by tic disorders. The cause of TTM is probably multiple genes and environmental risk factors. Researchers believe tourette's to be hereditary, though other factors may be involved. It's common for those with tic disorders to also have other psychiatric conditions including: ADHD, learning disabilities, obsessive-compulsive symptoms, anxiety/panic disorder, and mood disorders.
What can be done to treat these disorders?
Tic and hair pulling symptoms can decrease self-esteem and interfere with family life, social acceptance or job functioning.  They're chronic conditions, and symptoms vary, changing over time. Sometimes Tourette's disappears entirely after your teen years, other times tics can be experienced into adulthood.5,8
Behavioral therapy teaches a person to become aware of their behavior and helps them change what they do in a careful and systematic way. A comprehensive behavioral therapy plan for tics and hair pulling can include:2,3,4,9
Habit Reversal Training (HRT): Habit reversal training is a cognitive behavioral therapy technique used for treatment of tic disorders and trichotillomania.
Components of HRT include:

Self-Monitoring/Awareness: improves your awareness of pulling, or tic behavior and the urge that precedes the behavior, as well as triggers.
Stimulus Control: methods to reduce the likelihood that the behavior will start.
Competing Response Training: learning a new response behavior to engage in at the earliest sign of an urge to pull or tic, that prevents you from pulling or ticing at that moment because the behaviors cannot both be done at once.

Stress Management/Relaxation techniques: Unwanted tics or hair pulling can be made worse by stressful situations or social reactions to your behavior, learning to manage and cope with stress before or during specific situations can help to dissipate tics and hair pulling.
Environmental Alteration:

Identifying feelings and situations where hair pulling or tics are more likely to occur, and creating an action plan for change when they occur, creating environments that are more stable, predictable, and easily manageable.
Resources:
1 Tourette Association of America: The Spectrum of Tourette Syndrome and Tic Disorders
2 Centers for Disease Control and Prevention: Tourette Syndrome: New Treatment Option
3 Psychiatric Times
4 Child Neuro Channel: Tourette Syndrome and Other Tic Disorders
5 Centers for Disease Control and Prevention: Facts about Tourette Syndrome
6 National Institute of Neurological Disorders and Stroke
7 Pediatric Neurology: Prevalence of tic disorders: A systematic review and meta-analysis
8 Medscape Medical News: Anxiety Exacts a Toll in Adults With Tourette's Syndrome
9 Child & Adolescent Psychiatric Clinics: Cognitive-Behavioral Therapy for Childhood Repetitive Behavior Disorders: Tic Disorders and Trichotillomania