What are toileting problems?
Toileting problems can occur at any time, at the beginning of toilet training in toddlerhood, through the school-age years. Toileting problems often result in embarrassment and ridicule from peers and has been associated with emotional and psychological problems in school-age children. Whether or not your pediatrician identifies the cause as physiological, treatment usually includes a behavioral component, and may include therapy.
What are symptoms of toileting problems?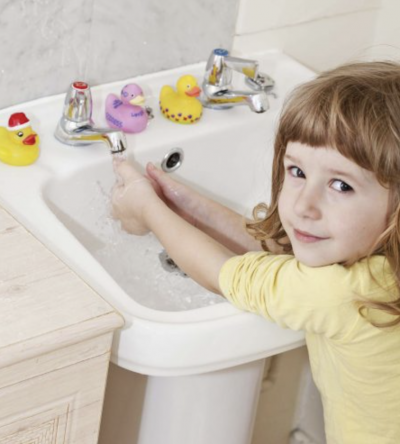 Bedwetting

Day time wetting

Defecating outside the toilet

Regression- accidents after period of previous successful toilet training

Asking to return to diapers

Withholding of stool

Toilet refusal
Symptoms are usually involuntary. Most children achieve some degree of daytime and nighttime bladder control by age 4. After the age of 5, symptoms are considered problematic when a child is wetting at least twice per week for at least 3 months and is causing distress or impairing the child's occupational, social, or academic functioning. At age 6, 25% of boys and 15% of girls are bedwetting. After the age of 4, children who have been toilet trained but then pass stool outside the toilet are considered to have a toileting problem called encopresis, when they repeatedly pass feces in inappropriate places at least once per month over a 3-month period. Approximately 4% of 4 year olds have encopresis, with boys being 3 to 6 times more likely to be affected. Children with ADHD are also more likely to develop enuresis and encopresis.
What causes toileting problems?
Voiding outside of the toilet can be due to any number of causes:
A physical or medical issue including constipation
Biological predisposition: bedwetting runs in families
Poor habits (infrequent voiding, having too much fun or being to busy to break to go to the bathroom)
Fear of pain (may have had a urinary tract infection in the past and fears pain when urinating, history of painful defecation)
Changes in your child's life (new baby in the family, move to a new house, family conflict, emotionally stressful situations)
Disruptive behavior problems such as aggression, oppositional behavior, noncompliance and temper tantrums.
Delayed development in motor, communication, and social skills
Difficult temperament
Children of mothers with symptoms of depression and/or anxiety when their child was around 21 months of age exhibit higher rates of persistent daytime wetting or soiling
Starting toilet training when the child is too young
Co-existing behavior problems are a predictor of poor outcomes in toilet training. Disruptive behavior problems should be addressed before toilet training is attempted.
What can be done to treat toileting problems?
Parents and children can use behavioral tools and techniques to gain control over toileting problems, allowing your child to learn to manage these problems independently. Below are some common interventions:
An alarm system that rings when the bed is wet, waking the child to complete voiding in the bathroom
Creating a voiding schedule (ex: pee every 2 to 4 hours)
High fiber diet with increased fluids for constipation
Kegel exercises to strengthen pelvic floor muscles for urine retention
Relaxation techniques and biofeedback to learn to relax as they void
Creating a daily diary of toileting habits (helps to develop times to schedule toilet sits) and helps a provider see compliance and effectiveness in treatment.
Positive toilet sits for toilet refusal to overcome negative associations with the bathroom.
Timed toilet visits
Waking schedule, waking the child at a specific time each night to void
Establishing and enforcing a regular bedtime routine that includes going to the bathroom
Developing a reward system to encourage your child
Limiting beverages in the evening
Punishment for voiding outside of the bathroom should be avoided. Speak with your pediatrician about your child's toileting issues to determine if there is a physiological reason your child is not able to toilet normally. Be patient, understanding and attentive. Do not talk about bed wetting or soiling in front of others. Try to respond calmly and use it as an opportunity to support and communicate with your child. Early treatment of a wetting, soiling, or bowel control problem can help prevent and reduce social and emotional pain for both child and family. A child psychologist can help your child cope with and overcome feelings of embarrassment, shame, guilt, and loss of self-esteem. A therapist can also help a parent overcome feelings of anger and frustration over the lack of proper toileting behavior from their child.