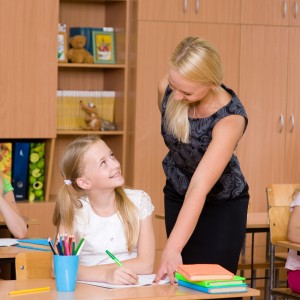 When a parent or teacher tells me a child is having difficulty at school, I am very excited to tell them about the Daily Report Card (DRC). Whether the issues are behavioral, social or academic, a DRC can usually help to the point of delaying or avoiding medication.
A DRC is a behavior chart with explicit and targeted behavioral goals that teachers track for each section of the day. The reasons why a DRC is effective are:
Explicit & Positive

– children are told exactly what is expected of them so they know what to do

Consistent

– all involved adults are using the same method to speed up learning

Intensive

– the program occurs all day at school and home for many weeks so children get to practice changing their behavior many times each day

Rewarding

– children are given the opportunity to earn meaningful rewards for their effort for behaviors that are not naturally rewarding for them right now
The DRC can target all types of school difficulties for children ages 5-12:
Academic

– completing work neatly and accurately, having materials ready, managing homework, etc…

Social

– working in groups, initiating play during recess, using friendly tone of voice, maintaining boundaries, etc…

Behavioral

– staying in chair, raising hand to participate, asking for help, focusing on own work,etc….
How it works:
Parent and teacher decide there are significant issues at school that need to be addressed
We conduct an intake to meet with the child and discuss the DRC with the parents
We talk to the teacher by telephone or observe the child at school
We create the DRC and send to the teacher and parent for review
Parents discuss the home rewards with their child
Start the DRC and review weekly to make changes
The DRC is an extremely effective behavioral therapy strategy for improving school success. We have over 20 children across Manhattan, NY at public, private and special education schools using a DRC. Parents are happy because they receive daily feedback; children are happy because they are being rewarded for changing their behaviors and feel more successful; and, teachers are happy because the student is doing better and requires less interventions over time. Plus, DRC can prevent or avoid the need for medication.
We're now using our new online DRC system – www.e-drc.com