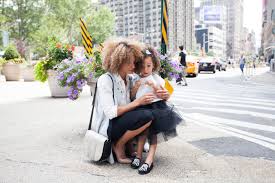 What is Separation Anxiety?
Separation anxiety is the stage where a young child becomes anxious at the threat of separating from their primary attachment figure. According to the Diagnostic and Statistical Manual-IV, separation anxiety is a fairly common anxiety disorder, which occurs in children younger than 18 years old and persists for at least 4 weeks.
Signs of Typical Separation Anxiety:
Clinginess
Crying when a parent is out of sight
Strong preference for only one parent over all other people
Fear of strangers, or of family and friends who are not frequently seen
Resistance to separation at bedtime or nap time
Waking at night crying for a parent
Regression to an earlier stage of development, such as thumb-sucking or "baby-talk"
Anxiety that is easily eliminated upon a parent's appearance
Clinically Significant Symptoms:
Reluctance to fall asleep without being near the primary attachment figure
Excessive distress (e.g., tantrums) when separation is imminent
Nightmares about separation-related themes
Bedwetting
Homesickness (e.g., a desire to return home or make contact with the primary caregiver when separated)
Frequent physical or somatic symptoms (e.g., abdominal pain and palpitations)
Fear of being alone
Ways to Help Your Child Cope With Separation Anxiety:
Encourage independent playtime at home
Model calm behavior: Try to appear relaxed with a happy or calm expression
Promote positive self-esteem
For preschool aged children, a play Hide and Seek or Peek-a-boo. Play this game at home and allow a full minute to pass without being visible to your child.
Ideas for Drop-Off Routines: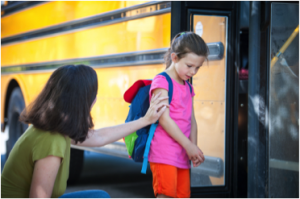 Help your child hang up their coat
Read a book in the reading area and wave goodbye from the door
Encourage your child to draw a picture to bring home for you
Attach a picture of your family in the child's cubby
Allow your child to carry something special into school daily
*However, it is very important to discuss your drop-off routine with the classroom teacher to make sure it is acceptable in that classroom.
Book Recommendations for Transitioning Back to School: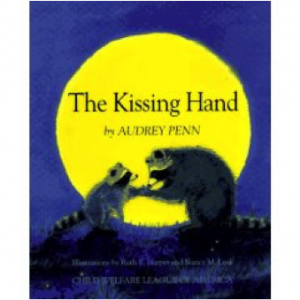 The Kissing Hand, by Audrey Penn
Llama Llama Misses Mama, by Anna Dewdney
I Love You All Day Long, by Francesca Rusackas and Priscilla Burris
First Day Jitters, by Julie Danneburg and Judith Dufour Love
The Invisible String, by Patrice Karst