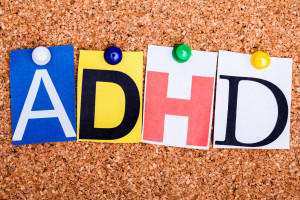 What is ADHD?1,2,3
ADHD is currently understood as a neurobehavioral condition that is typically apparent in early childhood. Even if you were never diagnosed with ADD/ADHD as a child, that doesn't mean you can't be affected by it as an adult. ADHD affects 30-50% of adults who had ADHD in childhood. Adults with ADHD have difficulty staying focused and attending to daily, mundane tasks. There are three subtypes to a diagnosis of ADHD which include predominantly hyperactive, predominantly inattentive, and mixed type.
Predominantly hyperactive: Difficulty with impulse control, restlessness, and self-control are most prominent.
Primarily inattentive: Difficulty with attention, organization, and follow-through are most prominent.
Mixed type: Both hyperactive and inattentive subtypes are prominent.
What are symptoms in adults?2,3,4,5,6
Symptoms of ADHD can change with age, but without treatment symptoms can cause difficulty at home, in relationships, and in the workplace. Adults with ADD/ADHD are much less likely to be hyperactive than children. Symptoms in adults with ADHD are more than inconvenient, they negatively affect a person's relationships at work and with family.
Symptoms that can be seen in adults with ADHD include:
disorganized
poor focus and follow through
forgetful
overwhelmed by responsibilities
extreme distractibility
struggle to complete tasks even ones that seem simple
tendency to overlook details, creating errors or incomplete work
quickly bounce from one activity to another
restlessness
low frustration tolerance
impulsivity
feeling always "on edge"
Estimated prevalence of current adult ADHD is 4.4%. Adults with ADHD usually also have another disorder which may be a mood disorder, anxiety disorder, substance disorder, or intermittent explosive disorder.
What causes ADHD?7
Researchers haven't found a single cause of ADHD. Some factors that are being researched include genetics, certain environmental factors, brain injury, nutrition and the social environment, all of which may contribute to ADHD.
What treatment options are there?
Medication and psychotherapy can help you to compensate for areas of weakness and start taking advantage of your strengths.
Cognitive behavioral therapy and ADHD coaching can help with:
Effective organizational and time management strategies
Creating simplified, step-by-step versions of overwhelming or looming tasks
Breaking the pattern of procrastination
Increasing productivity and decreasing impulsivity
Increasing attention and concentration ability using customized strategies
Adding nutraceuticals (when appropriate) that can help
Enhancing your ability to start something-and FINISH it
Better communication and listening skills

Resources:
1 American Family Physician
2 Helpguide.org
3 Children and Adults with Attention-Deficit/Hyperactivity Disorder
4 American Association for Marriage and Family Therapy
5 Mayo Clinic
6 American Journal of Psychiatry
7 National Institute of Mental Health