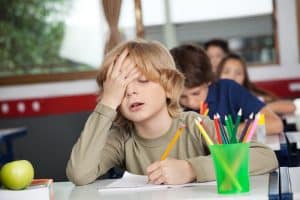 Executive Functioning refers to cognitive and mental abilities that enable people to successfully employ goal-directed actions. Some executive functioning abilities include:
Analyzing tasks
Self-motivation
Emotional Regulation
Self-motivation
Problem Solving
Planning how to complete a task
Organizing oneself around a task
Conceptualizing and developing timelines
Changing steps if necessary
Completing tasks
Executive functioning skills are the abilities our brain develops to allow us to achieve our goals and prepare for the future. Individuals with Executive Functioning Disorder (EFD) struggle to organize and regulate themselves in ways that would help them to accomplish goals that take some time, like writing papers, projects, and other long-term goals. EFD often becomes apparent as academic demands increase.
Who is Prone to Executive Functioning Disorder?
Most children with ADHD also suffer from EFD. Neurotypical people tend to develop executive functions in succession. In general, children with ADHD develop executive functioning skills much slower than neurotypical children.  Then they start developing the next executive functioning skill later than their peers and fall even farther behind—they need help to catch up.
Children with learning disabilities can also suffer from EFD. It's important that clinicians carefully assess if a child truly has ADHD when treating EFD. Generally, once stimulants are working for children with ADHD, the EFD improves. Children with learning disabilities do not see an improvement in EFD skills after taking stimulants, and will need to work with a learning specialist.
While depression and anxiety do not have to co-occur with EFD, they are likely to present in conjunction with it. Adults may mistake EFD for laziness or a lack of intelligence, which children pick up on. Furthermore, as academic demands begin to increase and children recognize that for some reason they cannot keep up, this can lead to anxiety and low self-esteem. For more information on anxiety and EFD, see this article: https://www.understood.org/en/friends-feelings/managing-feelings/stress-anxiety/are-learning-and-attention-issues-risk-factors-for-anxiety
How can I help my child with EFD?
Therapists and learning specialists can help children with EFD to develop and succeed. Behavior Therapy has been proven to be an effective tool in supporting children with EFD (https://www.understood.org/en/learning-attention-issues/child-learning-disabilities/add-adhd/adhd-and-behavior-therapy-what-you-need-to-know)
If you suspect your child has EFD, you can get them evaluated, or start treatment with a behavioral therapist. To schedule a consultation, call us at: 646-450-6210.  You can also work with your child's teacher to brainstorm concrete solutions to everyday EFD challenges. Think about solutions that have been helpful to your child in the past, and see if they can be modified to fit in a classroom setting.
Written by Dorrie Barbanel, LMSW, BCBA, LBA