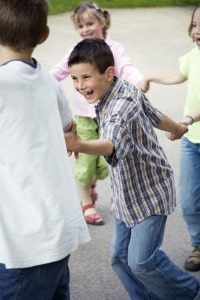 Your child is having consistent problems with peers at school. Your child's neuropsychological evaluation recommends social skills training. Your child was recently diagnosed with Asperger's Syndrome or as being on the autism spectrum. What do you do to begin to improve your child's social world?
I frequently field these concerns from parents and have carved out a niche within my practice around helping children improve their social competence. The difficulty is that parents don't always understand what is involved in making significant and long-term changes in their child's social skills.
I recently presented to clinicians at The Child Mind Institute about social skills training. The following are the highlights of my talk plus some additional information for parents
What are social skills (SS) and social competence? Social competence is the harmonic interaction of many factors, such as being able to appraise situations and people accurately, perspective taking, social knowledge of what do say/do, opportunities to practice, positive role models, lack of anxiety, depression, or attention deficit disorder, and the ability to perform under time pressure. Kids with social competence know how to solve problems, deal with conflict, be assertive not abrasive, think about others' feelings and communicate and listen well, which in turn, allows them to  develop friendships that grow over time.
Who has social skills deficits? All kids are prone to developing social difficulties but some groups are more likely, such as kids with ODD, ADHD, LD, Anxiety, Depression, Bipolar, Asperger's, and NVLD. Kids with these types difficulties can display problem behaviors (anger, impulsiveness, panic, sadness, explosive changes in mood and behavior, eccentric interests, rigidity, stilted speech, or poor motor planning) which interfere during social interactions with peers. Since peers are not always so understanding or forgiving, such kids might get teased, bullied, or excluded.
What is the best treatment for social skills problems? The best treatment approach for improving social skills includes the following: 1) explicit social instruction where the child can learn and practice important social skills under professional supervision; 2) weekly parent training so parents can generalize what the kids are learning; 3) weekly social skills homework (e.g. supervised play dates or hangouts) so there is ample practice; and 4) daily report card and supervised play at school so the child practices the correct social skills and can begin to break out of their "rejected" peer category.
Bottom line: Social skills deficits do not improve over time on their own. Nearly 20% of kids are rejected (Burleson, 1985, Kupersmidt et al., 1995), and that peer category can last for up to 4 years (Coie & Dodge, 1983; Howes, 1990). Kids without friends need specific help to change the way they interact or they are doomed to repeat the same mistakes over and over again. Social rejection and lack of peer relationships as a child is the biggest risk factor for adult maladjustment, more so than academics or classroom behavior (Hartup, 1992). Socially rejected kids need intensive, integrated and comprehensive social skills training with professionals, their parents, and at school. Easier said than done but definitely doable!
Social skills treatment is one of my specialties. I offer weekly groups during the school year for kids ages 7-8, 9-11, and 12-14 and run a social skills summer camp in Manhattan, NY called Big Apple Day Program.
Written by Joshua Rosenthal, PsyD