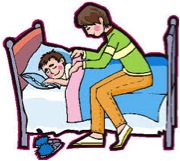 Sleep Hygiene refers to the behaviors and the routines we put into action at home prior to going to sleep. The specifics and the consistency of such routines and behaviors can impact the quality of sleep and overall alertness for the next day. Children benefit from structure and consistency around bedtime routines.
What qualifies "good" sleep hygiene for a child?
A regular bedtime
A wind-down routine before bedtime (i.e., bath, book, then bed)
Keeping away from caffeine beginning early in the afternoon
Avoiding sugar before bed
Digesting dinner / avoiding big meals before bedtime
Paying attention to a child's sleep hygiene is important because poor sleep can have large effects on overall functioning. Children may feel badly the next day and present with different moods and behaviors such as:
Irritability
Poor concentration
Lower frustration tolerance
Over activity
Sleepiness during the day
Changes in their appetite
Physical complaints (headaches)
A psychologist can help parents with structuring bedtime routines if there are struggles at home and assess if there is an emotional factor impacting a child's sleep. Additionally, it is important to determine if a sleep disorder is present. A psychologist can determine if one exists, create and put into practice a treatment plan as well as make appropriate referrals to medical providers, if needed.
Written by Erica David, PsyD