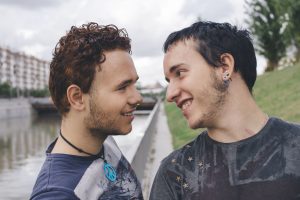 Within the lesbian, gay, bisexual, transgender, queer/questioning (LGBTQ) community there is continued stigma regarding sexual orientation, gender identity and mental health conditions. This is in spite of the increased social changes and growing acceptance seen over time.  The National Alliance on Mental Health (NAMI) indicates due to prejudice and stigmas the LGBTQ community may suffer from more mental health difficulties compared to non LGBTQ.  NAMI indicated in 2015 that "LGBTQ individuals are almost three times more likely than other to experience a mental health condition such as major depression or generalized anxiety disorder."
There is research that highlights minority stress factors may impact the LGBT community. This is not exclusive to only adults. Many LGBTQ youth are accepted and do well in their home and school settings. However, research shows LGBTQ youth are more likely than non LGBTQ youth to endure bullying, rejection, stress, homelessness, and violence which result in mental health conditions and educational problems. A report from GLSEN stated "LGBTQ students still face rates of violence much higher relative to their peers." When youth are mistreated or made to feel unwelcomed in their schools, attendance drops due to feeling unsafe and there is less participation in extracurricular activities. Additionally, when young LGBTQ are rejected by their families there is an increased risk for homelessness.
There is confusion for some about why there are negative outcomes for young people given there has been social change, growing acceptance and understanding of the LGBTQ community. One explanation from the Substance Abuse and Mental Health Services Administration (SAMHSA) is as more awareness and information about the LGBTQ community is present and available more young people are disclosing and coming out at younger ages.  Sharing earlier ties into development, more specifically during a time when sexual orientation is developing, peer relationships are most important and influential as well as homophobia (Russell & Fish, 2016).
Overall, research shows that parents and schools play important roles in helping LGBTQ youth thrive.  Acceptance and safe settings will protect youth from risk factors such as mental health conditions, suicide, school dropout, and homelessness and encourage self-esteem and confidence.
Parents can facilitate conversations and provide support starting at a young age. Some areas to consider are:
Conversations about sex and gender do not have to begin when children pose the questions.
Talk and listen.
Reflect on the messages you are communicating and what you would like to provide
Understand sexual orientation and gender identity can be a process for some
Seek out resources and professional assistance, for support
Teachable moments exist daily.
Use age appropriate language
Stay involved
More information and support is available LGBTQ youth and their families:
https://www.genderspectrum.org/
http://www.thetrevorproject.org/section/education-training-for-adults
Resources used for this blog:
http://store.samhsa.gov/shin/content/PEP14-LGBTKIDS/PEP14-LGBTKIDS.pdf
https://www.cdc.gov/lgbthealth/youth-resources.htm#family
Greytak, E.A., Kosciw, J.G., Villenas, C. & Giga, N.M. (2016). From Teasing to Torment: School Climate Revisited, A Survey of U.S. Secondary School Students and Teachers. New York: GLSEN.
Website:https://www.glsen.org/sites/default/files/TeasingtoTorment%202015%20FINAL%20PDF%5B1%5D_0.pdf
Russell, S.T., and Fish, J.N. (2016). Mental Health in Lesbian, gay, Bisexual and Transgender (LGBT) Youth. Annual Review of Clinical Psychology, 28(12), 456-487.
http://www.lgbtagingcenter.org/resources/pdfs/TopHealthIssuesforLGBTPopulationsKit.pdf
Ryan, C. (2010). Engaging families to support lesbian, gay, bisexual and transgender (LGBT) youth: The Family Acceptance Project. The Prevention Researcher, 17(4), 11- 13.
https://www.theatlantic.com/education/archive/2016/10/school-is-still-not-safe-for-lgbt-students/504368/
Substance Abuse and Mental Health Services Administration, A Practitioner's Resource Guide: Helping Families to Support Their LGBT Children. HHS Publication No. PEP14-LGBTKIDS. Rockville, MD: Substance Abuse and Mental Health Services Administration, 2014.