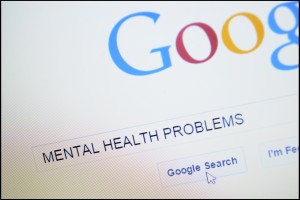 Feeling like you're not the same person you used to be? You're not sure what it is, but you notice that you have been acting differently, feeling unlike yourself and having thoughts that bother you.
You think to yourself – What's wrong with me? Am I sick? Am I crazy?
You don't know who to talk to about these feelings because you're afraid of what your friends or family might think or say. You're scared, and you don't know what to do.
Mental health disorders rarely start suddenly. Usually, individuals or people close to that person start recognizing small changes. These individuals often sense that their thinking, feelings, or behavior is "off" or "not quite right." So how do you know if you have a mental health disorder and what can you do about it?
Learning about early warning signs and taking action can help!
Common myths about mental health disorders
• "I can deal with this on my own"
• "It's not that serious, it'll pass"
• "If I tell people, they will think I'm crazy"
• "Treatments don't work anyways"
Mental health disorder facts
• There is no single cause for mental health disorders, they can be caused by a mixture of biological, psychological and environmental factors
• People with a family history of mental health disorders may be prone to developing one at some point in their lives
• Symptoms of mental illness can look different from person to person
• Mental health problems can affect a person's personality, thought processes or social interactions
• Early treatment can prevent the problem from getting worse
• Mental health disorders are more than just ups and downs in life, they are real illnesses and need to be treated
• Asking for help is not a weakness, it takes strength and courage
• There are a number of different treatments that have been found effective
Mental disorder signs and symptoms:
• Social withdrawal
• Loss of interest in usual activities – i.e. decrease in sports, hobbies
• Hard time functioning at work or in school
• Problems thinking i.e. difficulties concentrating or problems with memory
• Increased sensitivity to sensory stimuli
• Apathy or loss of desire to participate in an activity
• Feeling disconnected from oneself or surroundings
• Confused thinking
• Illogical or "magical" thinking
• Nervous feeling or fear of others
• Unusual behavior that are uncharacteristic, odd or peculiar
• Sleep or appetite changes
• Rapid or dramatic changes in mood
• Difficulty coping with daily problems and activities
• Seeing or hearing things that aren't there
• Increase in drug or alcohol use
What can you do if you think you have a mental disorder?
• Educate yourself about mental health disorders
• Complete an evaluation with a mental health professional
• Establish a support network and seek help from family members and friends
• Seek professional help by making an appointment with a mental health professional such as a psychologist and/or psychiatrist
5 ways you can improve your mental health!
Many people are acutely aware of their physical health.
Less focus is typically on their mental health.
Both are important and impact one another. Unfortunately, there is a stigma that is associated with mental health because people often assume it implies mental illness.
Mental illness is different than mental health.
Mental health is wide-ranging. The World Health Organization (WHO) defines mental health "as a state of well-being in which every individual realizes his or her own potential, can cope with the normal stresses of life, can work productively and fruitfully, and is able to make a contribution to her or his community."
Having good mental health does not imply you will not experience negative emotions in life such as anxiety or sadness when you are faced with a challenge. However, good mental health does imply you may be better able to tolerate emotions, cope with hard times and continue to move forward.
Easier said than done sometimes, right?!
Here are some tips that can help with improving your mental health:
Learn healthy stress management skills
Being able to cope with stress is invaluable. Find different strategies that help calm you down and find joy. Utilize them consistently and add new ones when needed.
Seek quality social support
Surround yourself with family and friends that are supportive and enjoyable. Once you do, communicate your feelings, make time to socialize and laugh with them.
Manage expectations & set goals for yourself
Find a balance every day. Seek acceptance and evaluate your perceptions of yourself and others. Pursue goals and schedule yourself realistically.
Be kind to yourself
Pay attention to your mind and body, they are connected! Treat your body well and focus on saying nice things to yourself. Try new things, keep learning and enjoying. Get enough sleep, make healthy food choices and be active.
Seek professional help if you need it!
Sometimes we need help from a professional. There is nothing wrong with that. Reaching out for assistance is a positive thing rather than a flaw.
Written by Lauren Feiden, PsyD