Many women are drawn toward romance novels like Twilight and Fifty Shades of Grey.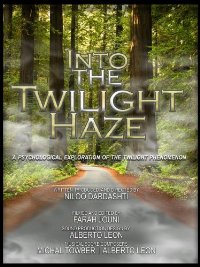 The media often likes to discuss the topic of enjoying such novels/films versus being drawn in to a fantasy world; expecting our significant others to embody the characters we come to swoon over. Into The Twilight Haze explores this issue, using Twilight as a vehicle, to discover what it is about such romance novels that is so alluring to women. It also offers valuable insights on how to differentiate between healthy expectations, illusion-based thinking, and suggestions on how to make relationships work. My film was recently featured on US News online, where some of these issues are discussed. Watch the film here.
Visit Into The Twilight Haze to learn more about this psychological documentary.
Written by Niloo Dardashti, PsyD, HHP