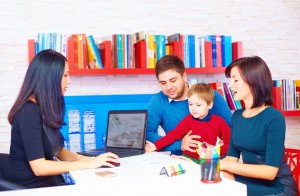 If you think your child is behind in their development (e.g., reading, social skills, attention, etc…) and needs professional help getting ahead, consider an intense approach instead of a less intense approach.Doing anything once per week will not affect change. Consider what it takes to lose weight, get stronger or improve an athletic skill. Playing tennis once per week will allow you to maintain, but not improve. Our bodies need more repetition to build the necessary muscle memory. To lose weight, you have to eat healthy every day, not just once per week. Our brains are the same. In order for a child to learn or improve at a skill, he/she must practice that skill at least 2-3 times per week. For example, once per week group social skills training may be fun but it is therapeutically ineffective if the parents and school are not involved providing practice in between group sessions.
This is why homework is so important. It promotes generalization outside the office. For adults who don't want formal homework assignments, even just thinking about the discussion and material from session can function as "practice" which speeds up change.
While far fewer people receive psychoanalysis as their primary treatment nowadays, one of the ways I support Freud's treatment approach is in the intensity of his work. He saw his patients 4-5 times per week.
My message to parents is this: If you feel strongly that you want your child to really improve, don't invest a little time; invest a lot of time because an intense approach is the only way to see real change. This includes treatment such as behavioral therapy for attention deficit disorder, social anxiety disorder and more. The additional time invested into these child and teen therapy sessions will result in quicker results.
Written by Joshua Rosenthal, PsyD