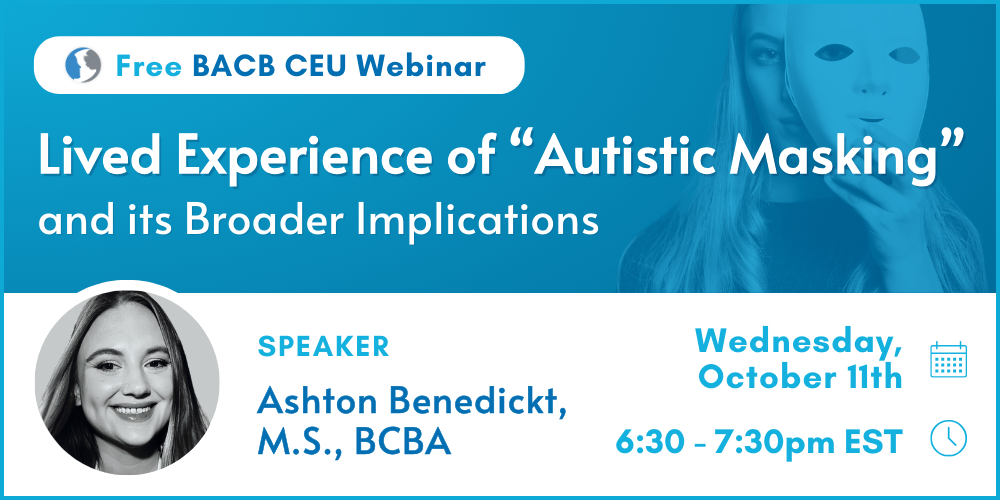 Speaker

Ashton Benedickt, MS, BCBA

Date

Wednesday, October 11, 2023

Time

Location
Click Here to Register
This talk has been designed to provide participants with the opportunity to listen to a firsthand account of "Autistic Masking" from an Autistic Behavior Analyst or BCBA. This talk will delve into the gender bias present in diagnostic criteria, as well as societal constructs around gender norms in relation to "masking behaviors" among Autistic individuals. This presentation will highlight the complex relation to "Autistic Masking" and concepts related to Social Validity, Diversity, Equity and Inclusion, Scope of Practice and Ethics. This talk aims to shed light on the effects of masking as a survival skill and its implications for key topics such as mental health, abuse, employment, and relationships. Participants will learn about the connection between Autistic masking, and ableism's roots in white supremacy culture, as it relates to racial discrimination of Autistic individuals. By focusing on the intersectionality and diversity of the Autism Spectrum throughout this presentation, attendees will gain a deeper understanding of Autistic Masking behaviors in applied settings, beyond the pop culture narrative wildly accessible.
BCBA live attendees are able to obtain 1 Ethics CEU free, upon completion of the post-webinar survey. Although certificates are only available to BCBAs, all are welcome to attend.
*Those outside of the USA may have access to a recording.
Click Here to Register