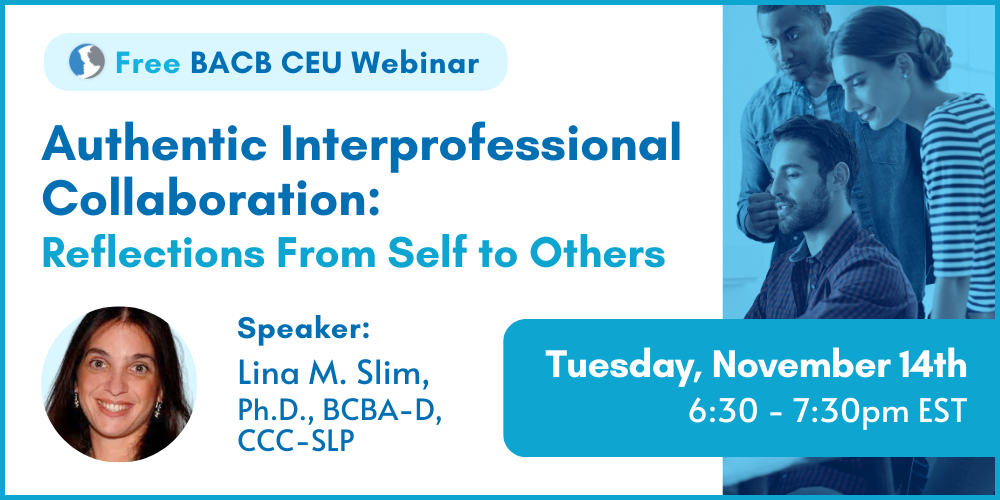 Speaker

Lina M. Slim, PhD, BCBA-D, CCC-SLP

Date

Tuesday, November 14, 2023

Time

Location
Click Here to Register
The application and benefits of the field of behavior analysis spans across multiple human development, educational, professional, familial, health and societal domains, at the individual and group levels. As such, behavior analysts are faced with working alongside other non-behavioral colleagues from across disciplines, families, and stakeholders to solve individual, group and population problems. Behavior analysts will also find themselves as active participants and members of teams. Team members are bound to encounter some disagreements, challenges and barriers as each member brings their own conceptual and theoretical approaches and assumptions to intervention or problem-solving frameworks. These challenges and barriers may hinder establishing trusting relationships and
building partnerships which in turn may have detrimental consequences on the individual's, group's and/or societal
outcome. Behaving with humility and engaging in activities that promote cultural reciprocity are necessary
components in support of building authentic interprofessional culturally responsive collaborative practices
(Kalyanpur & Harry, 2012; Slim & Celiberti, 2021; Slim & Reuter-Yuill, 2021; Spencer et al. 2020; & Wright, 2019).
Learning Outcomes:
1. Describe components of interprofessional education and collaborative practices (IPEC) that foster positive
partnerships among members of an interprofessional team.
2. Identify the four IPEC collaboration competency domains.
3. Describe components of a framework in support of Interprofessional Culturally Aware and Responsive
Collaboration (AICRe-Collaboration) that enhances building positive and healthy relationships and
partnerships between professional disciplines, families, and multiple stakeholders.
BCBA live attendees are able to obtain 1 free Ethic BACB CEU.
*Those outside of the USA may have access to a recording.
Click Here to Register