How do you know if your child is learning new social skills? One method is to compare parent ratings before and after the intervention, which is exactly what I did for one of the social skills groups in NYC that I led this past Spring 2013 for children ages 7-8.
The Kids: 9 children, 2 girls and 7 boys. Kids had varying diagnoses but all with solid language and cognitive abilities and no behavioral problems. Kids attended public, private and special education schools.
Procedure: 14 weeks, for 60 minutes each group. 2 Co-leaders. Parents rated their child based on what they saw outside of group before and after group. The online rating scale measured the skills being taught in group. We used a structured teaching model: skill definition, demonstration, child practice, review and then reward time. One skill was taught each week and reinforced in group via points and reward free play. During the last 10 minutes, I met with the parents separately to review the homework from the prior week, review the new skill being taught, and practice the new homework.
Results: The total pre-group score was 45/70 (64%) and the total post-group score was 52/70 (74%), which reflects a 10% increase. The group improved the most on making introductions, talking briefly and making compromises. Overall, the group improved in every skill. Click on the graph below to enlarge.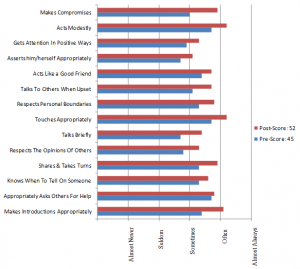 Discussion: I'm very happy with these results, as are the parents. The children learned new skills because we taught them explicitly and the parents reinforced them at home. Some children were also on Daily Report Cards (DRC) at school for similar difficulties. However, the question remains: will these new skills translate into new or improved friendships? New friendships were formed in group as many kids scheduled outside play-dates. But what about at school and with new kids at the playground? That's what matters most. Stay tuned…
Written by Joshua Rosenthal, PsyD