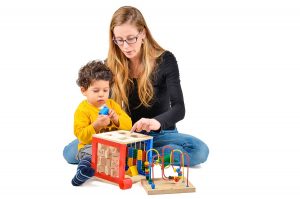 When children under 3 exhibit developmental delays at any of their typical milestones, parents are eager to assess the severity of the delay and intervene quickly. At this age, every month counts!
These delays include 4 main domains:
movement/physical (e.g., rolling over, sitting up, crawling)
language/communication (e.g., responding to their own name, using simple gestures, trying to say words they hear)
social/emotional (e.g., recognizing familiar people, responding to others' emotions, showing interest in others)
cognitive (e.g., looking at things nearby, exploring different objects, following simple directions)
Parents and early childhood professionals all agree that intervening as early as possible creates the best possible outcomes, especially for children with early signs of Autism.
While there's no clear cause for Autism, the professional community agrees that there are certain risk factors, such as a family history or having siblings with Autism, being male, being born premature and having older parents. Conversely, research suggests that there are several protective factors that can improve the outcome for a child with Autism, such as having a higher IQ, more intact verbal skills and early identification and intervention.
While state-sponsored Early Intervention (EI) is available to all eligible children under 3 at no cost, like any large scale government agency, many families report significant challenges with EI, such as provider shortages in their geographic area, delays in receiving evaluations and starting services, denial of requested services and inconsistent competency levels among service providers.
Further, families can be denied EI completely if their child's delays are not deemed significant enough, even if the parents report otherwise.
To combat these issues with EI and provide an additional layer of support for children with suspected, mild and/or significant developmental delays, MPG is offering Private Supplemental Early Intervention Services via our team of Board Certified Behavior Analysts (BCBAs).
BCBAs are nationally-certified and state-licensed early childhood behavior specialists who assess and treat specific and non-specific delays in all 4 domains of development, not just Autism. BCBAs use a fun and play-oriented version of Applied Behavior Analysis (ABA), a scientific and naturalistic method for teaching skills, with infants and toddlers to address physical/movement, language/communication, social/emotional and cognitive delays.
They also work with parents of toddlers and children with behavioral issues, such as eating, sleeping, toileting or excessive tantrums. At MPG, BCBAs work alongside our child psychologists and special educators to provide comprehensive evidence-based psychological and behavioral services.
Supplemental NYC early intervention services our BCBAs can provide in the home and via telehealth:
Formal and informal assessment of the 4 developmental domains: physical/movement, language/communication, social/emotional, and cognitive

1:1 direct service with the child using play-based ABA methodology for all 4 domains of developmental delays

Parent training to teach parents how to address all 4 types of delays during a typical day together

Coordination of care for existing multidisciplinary EI providers (speech, PT, OT)

Recommendations for additional evaluations and services

Additional interventions for children of all ages with behavioral issues, such as eating, sleeping, toileting and excessive tantrums.
How it works:
The parent contacts MPG to schedule the intake and gather information.

Our Director of ABA,

Dr. Ariel Kornblum

, speaks to the parent briefly by phone about our program and the treatment process, and then assigns a BCBA.

The BCBA meets with the parents for 60 minutes to gather information and review any prior evaluations.

The BCBA schedules a few 30-minute parent-child observations to see the delays first-hand and complete the assessment.

The BCBA creates a custom, clear and easy to follow program of parent training strategies. 1:1 direct service with the child could also be recommended based on the child's needs. The amount of recommended hours per week will vary based on the child's delays and parents needs.

The BCBA tracks progress overtime, collaborates with the parents and updates the treatment program as needed.

Like other services at MPG, we do not accept insurance but can give a receipt for out-of-network reimbursement.
Benefits to parents and children:
All assessments and services can be done remotely or in the home

Services can begin immediately 

Increased transparency and feedback about the child's delays and progress by using ABA methodology

Increased cooperation and collaboration among service providers by having the BCBA as the team lead

Ongoing support before, during and after any formal EI services, into preschool and primary education