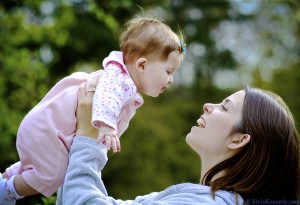 In this interesting study, researchers in Israel found that mothers' affections towards their infants had notable physiological effects on them. In addition, biological rhythms experienced by both mother and infant became synchronized during these moments of visible affection.
This study has several interesting implications, one being the idea that if it is possible to synchronize heart rate through smiling and affection, perhaps there are other relationships that can be subtly if not profoundly influenced by feelings of connectedness.
We all know that the relationship between a mother and her infant is a truly special and unique one, but what if we had the possibility of affecting someone positively (even ever so subtly) on a physiological level just by smiling at them in the street? And then had a simultaneous benefit of a sublte physiological effect on ourselves if they smiled back?
This is not to say that we should only smile at others or be nice to each other for the possibility of the physiological gains; however, it is indeed an added bonus to the positivity we put out when we are consciously kind with others…and perhaps increases through altruistic behaviors as well.
Written by Niloo Dardashti, PsyD, HHP