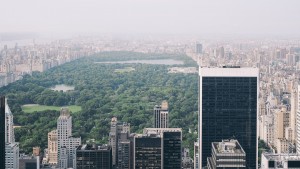 According to research, people who live in cities have a 21% increased risk of anxiety disorders and a 39% increased risk of mood disorders when compared with those who live in rural areas. Some possible explanations for this difference between urban and rural areas could be related to stress due to issues such as overcrowding, unpredictable noise, fear of crime, social stress, or fear of losing one's social status. In addition, the need to focus despite constant stimulation provided by different sounds and noises and the need for constant self-control required because of the numerous temptations from stores and advertisements can have negative effects on our ability to focus on the paper in front of us or resist the temptation for the overpriced, high calorie coffee.
So what is the overstressed, overstimulated New Yorker to do?
Take a walk in the park. Research shows that being in nature can reduce stress and improve attention and general well-being. A number of research studies also show that being in nature can decrease symptoms of inattention and hyperactivity in children with ADHD. Taking a walk in Central Park is not only good for your body, it's good for your mind too.
Practice Meditation. Well known in the popular culture, there is also research to support the claim that meditation is good for your mental health and that it can reduce anxiety, depression and even pain. There are many different types of mediation, one is not better than another and it is important to choose the one that feels right for you.
Yoga. Yoga has become increasingly popular in recent years and luckily it's also good for you! Research suggests that yoga can help reduce stress and improve mood and overall energy levels. Also, similar to exercise, doing yoga can improve sleep which is an important factor in overall stress reduction.
Get Creative! Just as it is difficult to be creative when you are feeling stressed, it is also difficult to feel stressed when you are feeling creative! When engaged in something creative, be it writing a poem, coloring in a book or playing an instrument, all of your energy is focused on that activity. This distracts you from your stress and also can put you in a state of "flow" which is characterized as a state of complete immersion in an activity where you feel focused, energized and intrinsically rewarded by your activity.
New York City has many beautiful parks to go take a stroll, yoga and meditation centers to go and relax and opportunities to engage in creative activities such as art classes, adult coloring books or writing workshops. Sometimes stress can feel so overwhelming and disruptive that these tools do not feel adequate. In these situations, talking to a mental health professional who can provide additional support can be helpful in improving stress levels.
Written by Shuni Zerykier, PsyD