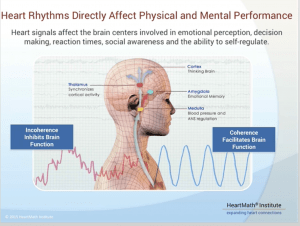 What is biofeedback?
The Association for Applied Psychophysiology and Biofeedback defines biofeedback as, "a process that enables an individual to learn how to change physiological activity for the purposes of improving health and performance. Precise instruments measure physiological activity such as brainwaves, heart function, breathing, muscle activity, and skin temperature. These instruments rapidly and accurately "feed back" information to the user. The presentation of this information — often in conjunction with changes in thinking, emotions, and behavior (I.E. cognitive behavioral therapy) — supports desired physiological changes. Over time, these changes can endure without continued use of an instrument."
Biofeedback is a powerful tool that can be used to help us gain increased awareness of what is going on in our body!  Through this awareness we are able to develop the ability to regulate our body's physiological responses and re-train our nervous system to improve our health at both a mind and body level. 
The main type of biofeedback used at MPG is HeartMath Heart Rate Variability training. Andrew Lima, PsyD is a HeartMath® Certified Interventions Practitioner, and is qualified to provide biofeedback interventions. Dr. Lima also utilizes peripheral temperature (thermal) biofeedback as an additional tool for helping patients achieve greater levels of self-regulation, and emotional management skills to help with stress, anxiety, pain, and many other conditions. 
How does Heart Rate Variability biofeedback work?
When you're stressed, your body is out of sync. Negative/depleting emotions we feel when stressed such as anger, frustration, anxiety and worry lead to increased disorder in heart rhythms and the nervous system. In contrast, positive/renewing emotions like joy, appreciation, care and kindness create harmony in heart rhythms and the nervous system. Other bodily systems sync up to this rhythm, a process scientists call coherence. Because coherence leads to more mental clarity, creativity and better problem-solving abilities, it's easier to find solutions and better ways of handling stressful situations. The goal of HRV training is to teach the individual how their nervous system is responding to stress, and retrain their nervous system to enter into a state of coherence. Once in a state of coherence, positive emotions such as joy, love and care are much easier to access, thus, alleviating a significant amount of anxiety, depression and worry. A large body of literature has also demonstrated that when the heart is in a state of coherence, better brain function is facilitated which helps improve focus, attention, and optimal cognitive performance. All without medications or side-effects! 
The heart and brain also maintain a continuous two-way dialogue, each influencing the other's functioning. The signals the heart sends to the brain can influence perception, emotional processing and higher cognitive functions. This system and circuitry is viewed by neurocardiology researchers as a "heart brain."
What conditions can biofeedback help?
Anxiety 

Stress

Pain 

Depression

Attention Deficit-Hyperactivity Disorder

Tantrums/ Patterns of dysregulated emotions

Insomnia

Test Anxiety 

Performance anxiety 

Digestive issues

Hypertension

Asthma

Chronic Fatigue 

Psychogenic Seizures

Post-Traumatic Stress Disorder 
Believe it or not, all of these conditions share one thing in common…  A dysregulation in autonomic nervous system functioning. This is actually good news! That's due to the fact that dysregulated patterns of autonomic nervous system functioning can be easily detected with the use of noninvasive sensors. This then allows the patient the ability to learn how to better regulate the firing of their nervous system which can result in a drastic improvements in health, psychological well-being and quality of life. 
Psychopsychiological Stress Assessments
An important first step before beginning any type of biofeedback training is an in-depth stress assessment. Typically lasting between 25-40 minutes, a specialized stress assessment helps determine how an individual's nervous system is firing both at rest and while stressed. A stress assessment will also help elucidate how well an individual is able to recover from stress which will aid us in treatment planning. Based on this data, we will form a prescriptive plan of action to include either short term biofeedback training, or more intensive training. This will almost always be done in combination with psychotherapy, and can also be done in conjunction with medication if you or your child is prescribed a medication. Note: a modified version of the psychophysiological stress assessment can be done over tele-health. 
If any significant abnormalities are detected on the psychophysiological stress assessment, the results will be shared with your physician as further medical work up may be required. Furthermore, a 24 hour heart rate variability assessment can also be ordered. A 24 hour assessment will result in an autonomic assessment report which quantifies the 24 hours of data. This allows the clinician to detect any abnormalities in circadian rhythms which may be impacting an individual's stress levels and sleep cycles. The results of this report will be made available to the parent or adult and can also be provided to the individual's physician for further work-up if needed. 
Can this be done via tele-health? Does it work with Children?
Yes it can! In addition to HeartMath biofeedback training, we also offer a fun and engaging remote biofeedback platform by the company Somatic Vision. This platform allows the clinician to offer real time remote biofeedback training through the use of sophisticated graphs that provide an accurate display of autonomic nervous system functioning, as well as the ability to play games that provide rewards when the individual is in a relaxed and coherent state.
For example, the user can play a racing game where the car moves faster in the race, the more the individual follows the breathing pacer and improves their heart rate variability. Individual's will also be provided a code to be able to continue training on their own between sessions during the week. During each weekly appointment, the clinician will check in on the patient's progress and fine tune the training to continue making improvements in their ability to learning stress reduction and self-regulation skills.

Contact us today to find out more about how biofeedback training can be done via tele-health.
For more information on biofeedback, please watch our webinar on Biofeedback Training for Anxiety, Stress, and Chronic Pain Disorders.