What is Selective Mutism?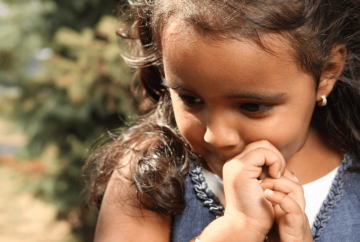 Selective mutism (SM) is an anxiety disorder that renders children speechless in school and community situations, while speaking normally at home (provided only the parents and siblings are present). Untreated, this condition can keep children from participating in class, leaving their educators incapable of accurately gauging their progress, and impact their social relationships with peers. It is not extreme shyness or defiant behavior, but a true inability to speak due to anxiety in public settings or around strangers.
Who is at risk?
Selective Mutism usually starts between ages 2 and 4, but in some cases, it is not recognized until a child begins school. A family history of anxiety may increase a child's risk of DM, as well as a traumatic experience.
What causes Selective Mutism?
There is no specific cause of SM, but factors may include:
Generalized anxiety
Social anxiety
Another underlying diagnosis, such as depression
Poor family relationships
A traumatic experience
Self-esteem issues
Problems with sound processing
A speech problem (e.g. stuttering)
What are the symptoms?
The most conspicuous sign of SM is speechlessness for one month or longer, only in certain social situations, and when the failure to speak is not due to another communication disorder (e.g. autism). Additional symptoms include:
Anxiety
Social withdrawal
Extreme shyness
Obsessive compulsive disorder
Depression
Developmental delay
Communication disorders
Elimination (urine or stool) disorders
How is Selective Mutism diagnosed?
We can work with your child's pediatrician, school, and a speech pathologist to compile a comprehensive evaluation for your child. This could include a medical exam, including their ears, tongue, lips, and jaw, academic assessments and comments from their teacher, assessments of their understanding and use of speech with a speech and language pathologist, and a psychological evaluation with one of our SM experts.
PCIT-SM: Selective Mutism Treatment
Selective Mutism will not just go away over time. In fact, the sooner and younger a child receives appropriate therapy for Selective Mutism, typically the faster and more effective the therapy is. We have providers who specialize in treatment for Selective Mutism. Click here to learn and to schedule a consultation.