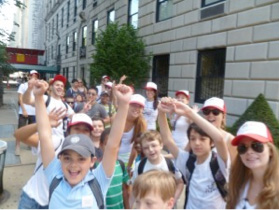 Big Apple Day Program (BADP) is a co-ed 6-week social skills summer treatment camp for children age 5-7, 8-9 & 10-12 with mild-to-moderate (non-aggressive) social difficulties, such as ADHD, HF-ASD, NVLD, Anxiety, and Learning Disabilities.
We use a social-thinking, behavioral approach to teach social, academic, and athletic skills. We offer a fun and therapeutic summer experience for kids who need extra support and attention at camp.
Our program and staff are best suited for children who want more friends, but have difficulties with social skills. They might be impulsive at times, miss social cues, not know what to say, or have anxiety in social groups. Our large group of staff (roughly 1:2 staff-to-child ratio) are professionally trained to give each child the attention and support they need.


BADP provides skill building in the areas of:
peer relationships
problem-solving
self-esteem
academic performance
frustration tolerance
behavioral compliance
You can learn more about our Big Apple Day Program by visiting our camp website at http://bigappledayprogram.com.