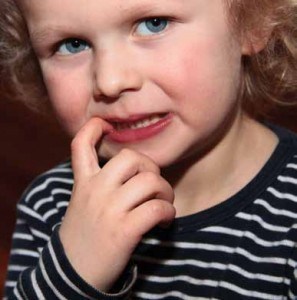 Although there are many different disorders listed under the heading "anxiety" in the Diagnostic and Statistical Manual of Mental Disorders-V (DSM-V), these disorders share certain common characteristics. They are all characterized by a feeling of worry or anxiety about negative events happening-be it to the self or to others-accompanied by certain physical symptoms such as muscle tension or an increased heart rate, vigilance in watching for the feared event to happen and engaging in behaviors that ensure avoidance of the anxiety inducing event or object. Although everyone feels anxiety at times, it becomes a disorder when it has persisted for a prolonged period of time, is not developmentally appropriate, and is interfering with a person's daily functioning either at home, school, work and/or in social settings. The different anxiety disorders all have their etiology in a combination of temperamental, environmental and genetic factors.
What are the different anxiety disorders listed in the DSM-V?
Separation anxiety disorder is characterized by fear or anxiety about separation from attachment figures to a degree that is developmentally inappropriate. The 12-month prevalence of separation anxiety disorder is 4% in children and 1.6% in adolescents.
Selective mutism is characterized by a consistent failure to speak in social situations where there is an expectation to speak, even though the individual speaks in other situations. One example is a child who does not speak in school but speaks normally at home. The prevalence of selective mutism ranges from .03%-1%.
Specific phobia is characterized by anxiety and fear regarding a particular object (ex: spiders) or situations (ex: driving on the highway). The fear, anxiety, or avoidance is almost always immediately brought on by the phobic situation to a degree that is out of proportion to the actual risk posed. The etiology of specific phobia can be genetic or environmental. The 12-month prevalence rate of specific phobia is 5% in children and 16% in adolescents.
Social anxiety disorder is characterized by fear and anxiety in social situations where a person may be scrutinized or judged by others. Examples include meeting new people or performing or speaking in public. A person with social anxiety may either avoid these situations or endure them in great distress. The 12-month prevalence rate of social anxiety is 7%, with a higher ratio of females exhibiting the disorder, especially in adolescence.
Panic disorder is characterized by recurrent panic attacks. A person with panic disorder is often worried about having more panic attacks and may change his behavior in maladaptive ways to avoid further panic attacks, such as not engaging in exercise or going to certain places. The 12-month prevalence rate of panic disorder is less than .4% in children below the age of 14, and 2-4% in adolescents, with a higher ratio of females exhibiting this disorder.
Generalized anxiety disorder is characterized by persistent and excessive anxiety and worry about a variety of topics that the individual finds difficult to control. In children, worries often center around their competence or quality of performance in areas such as school or with friends. The 12-month prevalence of generalized anxiety disorder is 0.9% and is twice as common in females than males.
What are the evidence based treatments for anxiety disorders?
Psychoeducation: Psychoeducation involves learning about the causes of anxiety, how anxiety persists through both positive and negative reinforcement, and the different components of effective treatment for the anxiety. When the client is a child, this is done with both parents and children so that each person gains a better understanding of their role in the disorder and its treatment.
Relaxation training: Relaxation training involves discussing how the body reacts to anxiety and then learning different skills to calm the body and turn on the relaxation response to decrease anxiety.
Cognitive Reframing: In cognitive reframing, the therapist and client discuss the "worry thoughts" that the client has and then work to challenge those thoughts and come up with new, more rational thoughts instead.
Exposure and Response Prevention (ERP): Exposure and Response Prevention is the act of facing one's fear and not running away from it. A hierarchy of feared situations is created together with the therapist and, using the different cognitive and behavioral skills learned previously, clients begin to purposefully expose themselves to, and then remain in a feared situation, without engaging in behaviors, also called responses, that would eliminate the anxiety. The immediate goal is to remain in that situation until the level of anxiety has decreased and the long-term goal is to no longer feel the anxiety associated with the feared situation. To be effective, the exposures are first practiced in the office with the therapist and then are done at home throughout the week.
Positive Reinforcement for exposures: Purposefully doing something that a person knows will make them highly anxious can be very difficult and, especially with children, a reward is needed to increase motivation to participate in exposures. Often, a reward chart is created whereby the child receives either points or a direct reward for each exposure that they engage in.
The following resources were utilized in the development of the above:
American Psychiatric Association: Diagnostic and statistical manual of mental disorders.5th Arlington: American Psychiatric Publishing; 2013.
Charmaine K. Higa-McMillan, Sarah E. Francis, Leslie Rith-Najarian & Bruce F. Chorpita (2016) Evidence Base Update: 50 Years of Research on Treatment for Child and Adolescent Anxiety. Journal of Clinical Child & Adolescent Psychology, 45:2, 91-113.
Written by Shuni Zerykier, PsyD